Fo Guang Shan Buddha in Libra. The Libra presentation of architecture and art focused on symmetry, harmony and balance.
Related articles: Libra as the sign of symmetry, Buddhist Stupas in Astrology,  Shwedagon Pagoda in Myanmar, The Mahabodhi Temple in Bodhgaya, A Monumental Buddha Maitreya Statue in Scorpio, The "Spring Temple Buddha", The Emerald Buddha, The Porcelain Pagoda of Nanjing, Lying or Flying – The Controversy between Taurus + Aquarius, Cancer and Virgo – Jokhang Temple in Lhasa, The mystical Buddhist university of Nalanda, The White Horse Temple – The first Buddhist Temple in China, The Longmen Grottoes, The Legendary Shaolin Monastery
Fo Guang Shan Buddha in Libra
The Fo Guang Shan Buddha Museum is a Mahāyāna Buddhist cultural, religious and educational museum located in Dashu District, Kaohsiung, Taiwan. The museum is located next to the Fo Guang Shan Monastery, the headquarters of the order. The museum houses one of the tooth relics of Sakyamuni Buddha, the founder of the Buddhist faith.
The strictly symmetrical arrangement of building structures in Libra explains the aim of considering a perceived object through the perspective of harmony.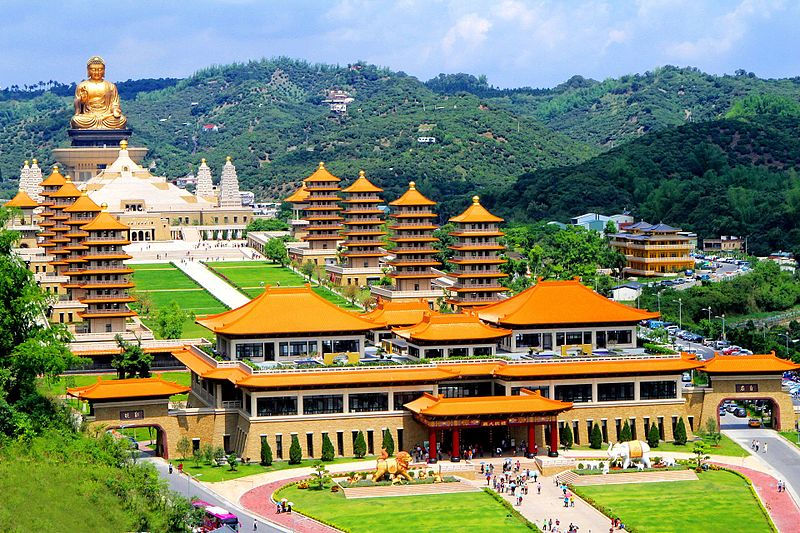 Astrogeographical position for morphogenetic field level 3 which explains how the buildings are embedded in the landscape: one coordinate is located in aristocratic air sign Libra sign of harmony, balance, beauty, symmetry, decoration, rectangular forms, stage-presentation, naive painting and indicator for attempts to observe, balance, arrange and weigh objects through the polarity of the two scale-pans. The central axis in between the rows of pairs of towers appears as emphasized and presented as a depiction of an assumed path of formal perfection and of formalism as such.
The 2nd coordinate is in solid, fixed earth sign Taurus sign of market places, wealth, income, roots and indicator for the motif of allowing and planting objects and issues right in the center of society.
Buddha as the home and center of meditation
The position of the Buddha sculpture at the end of the central axis reflects the final aim of Buddhist meditation: the self-realization of the individual human potential through the inner Buddha. This message is reflected through the position of the statue at a place with both resonance coordinates in Cancer the sign of emotional individuality.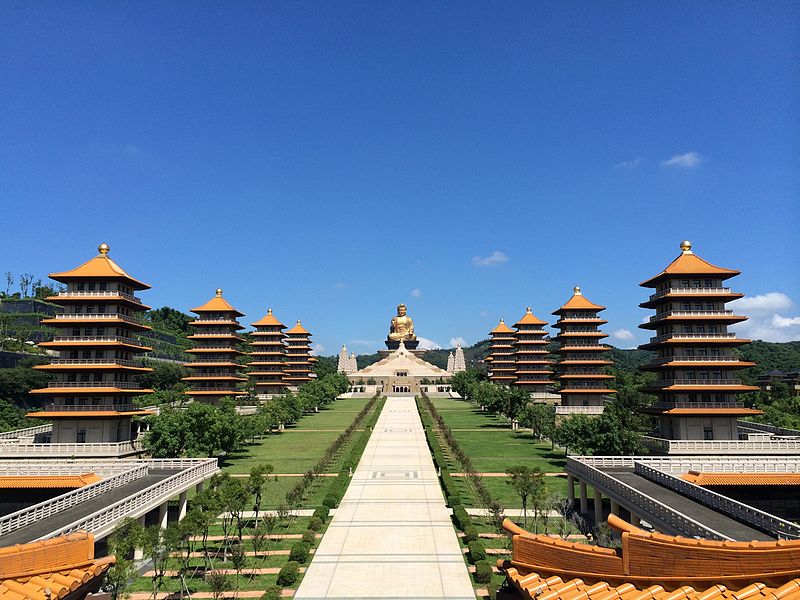 Astrogeographical position of the Buddha statue at the very end of the central axis of harmony for morphogenetic field level 4 (exact position) which describes the topics of the Buddha itself: the Buddha statue has both astrogeographical resonance coordinates in emotional water sign Cancer sign of the Moon, motherhood, fertility, pregnancy, emotional individuality and independence, feeling at home and the inner center of human reflection in meditation.