The centralism of Leo combined with the mystification in Pisces. Sanam Luang – The "Royal Field" of the kings of Thailand`s palace and state temple.
Compare: An Astrological Typology of City Squares, Buddha, King Arthur, Lincoln Memorial, Queen Victoria Monument in Pisces
Sanam Luang the "Royal Field" is a 600 m wide square square and open space in between the Grand Royal Palace and the Great Temple of the Emerald Buddha (Wat Phra Kaew) in the heart of Thailand`s capital Bangkok.
The Emerald Buddha at Wat Phra Kaew is the palladium and national shrine of the Kingdom of Thailand. The historical  Buddha statue carved from jade and clothed in gold was discovered in Northern Thailand in 1434. It is a central object of worship as part of the duties of the King of Thailand to perform the important rites for the welfare of his country related to the Emerald Buddha.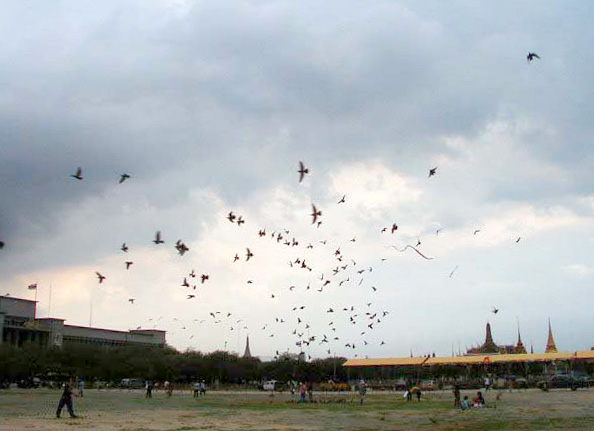 Astrogeographic position for morphogenetic field level 3 which defines the atmosphere, function and energetical position of the Grand Royal Palace area in Bangkok: one coordinate lies in highly energetic,magnetic, centralist, royal fire sign Leo sign of the sun, light, heart, power stations, kingdom, palaces, gold, precious stones, luxury, magnificence, pleasures, emotional self-expression, sexuality and life itself.
The 2nd resonance coordinate here falls in highly imaginative, relaxed, mystic, spiritual water sign Pisces sign of mystification, illusion, legends, temples, entertainment, movies, holidays, the dream world, the unconscious and invisible and spirituality.