Libra and Sagittarius – Shwedagon Pagoda in Myanmar. Astrology and Buddhist architecture: Shwedagon Pagoda in (Yangon) Rangoon
– Video
Related articles: Buddhist Stupas in Astrology, Capitals and History of Myanmar in astrology, The Mahabodhi Temple in Bodhgaya, A Monumental Buddha Maitreya Statue in Scorpio, Saint Michael`s Mount in Sagittarius, The Porcelain Pagoda of Nanjing, Samye Gompa the oldest monastery in Tibet,
Libra and Sagittarius – Shwedagon Pagoda in Myanmar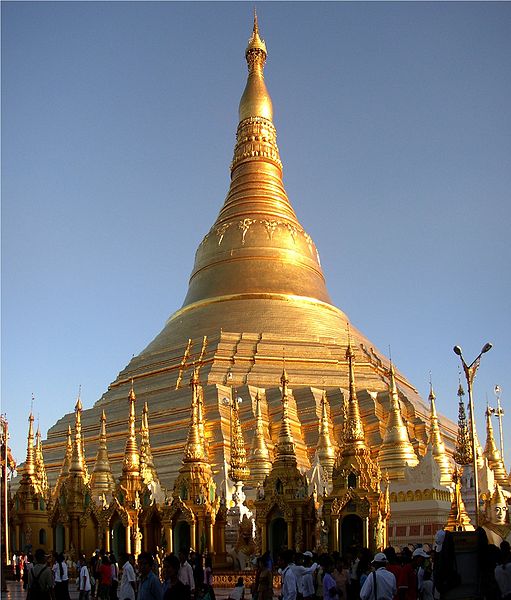 Shwedagon Pagoda is the main temple and the religious center of Yangon (Rangoon) the former capital of Myanmar. It is considered the symbol of the country and was built in the constellation of the air sign Libra the sign of angels, beauty, harmony, love, relationship and decoration with the fire sign Sagittarius the sign of style, design, fashion and ornamentation. Sagittarius as the indicator for round (bows) and conic (shafts) forms is almost archetypally represented by the shape of the stupa here.
This applies to morphogenetic field level 3, which shows how the sanctuary is embedded in the surrounding area. Shwedagon Pagosa is decorated and ornamented as a temple of beauty (Libra) as well as richness, fortune and abundance (Sagittarius).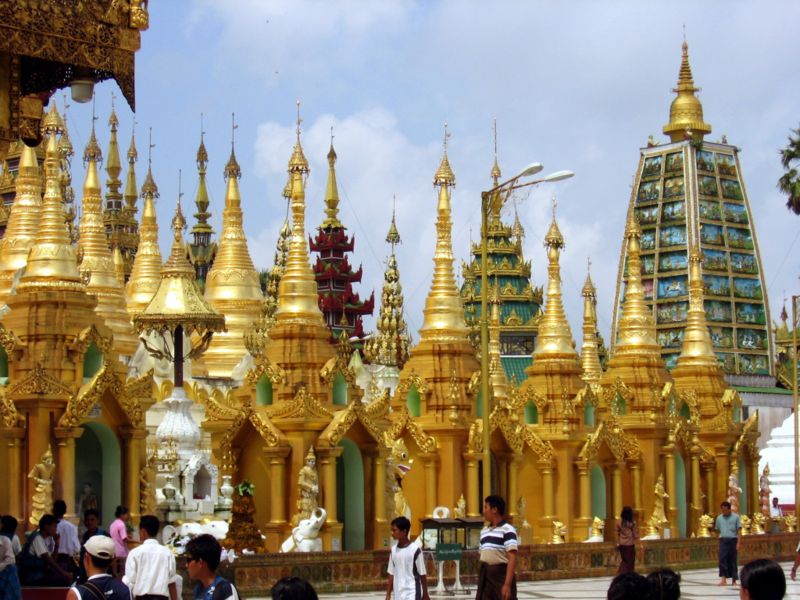 According to the legends the central Stupa is up to 2500 years old and would therefore have been built during the lifetime of Gautama Buddha. During the reign of Queen Shinsawbu (1453-1472), the pagoda was given its appearance that it still has today.
The queen herself, donated her own weight in gold for the covering of the Pagoda, and so made herself a symbol of the ornamentation. Over the following centuries, the Pagoda has been decorated with gold and precious stones and bells were hung on it everywhere. It* s present height of 98 feet was reached in 1774. The crown of the stupa is decorated with 4351 diamonds of 1,800 carat weight. The top is a diamond of 76 carats, glistening in the sunlight.
The round shape of the upper building structure and the tapered (conical) form of the top can be regarded as typical elements of Sagittarius. The interaction of Libra with Sagitarius both signs with the central motif, reflex and purpose of aesthetical value may have effected a tendency of overwriting the spiritual and religious dimensions of Buddhism here.
Compare: The Cathedral of Maringá in Sagittarius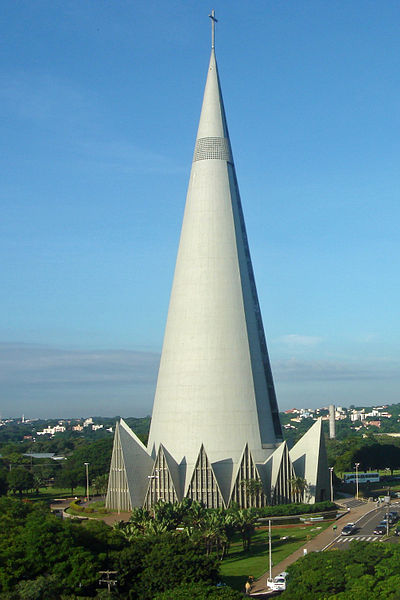 The Cathedral of Maringá of our Lady of Glory (Catedral Basílica Menor Nossa Senhora da Glória) in Maringá, Parana Brazil is an interesting example for architecture in Sagittarius related to the form of the Shwedagon stupa.
Astrogeographic position: located in the highly energetical combination of 2 fire signs – magnetic, royal Leo the sign of the Sun and indicator for concentrating the energy and focus on the centre of the church and Sagittarius the sign of bows and shafts and indicator for the round conic and pointed church tower here. Valid for field level 4.