Gemini & Virgo Samye Gompa the oldest monastery in Tibet
Gemini & Virgo Samye Gompa the oldest monastery in Tibet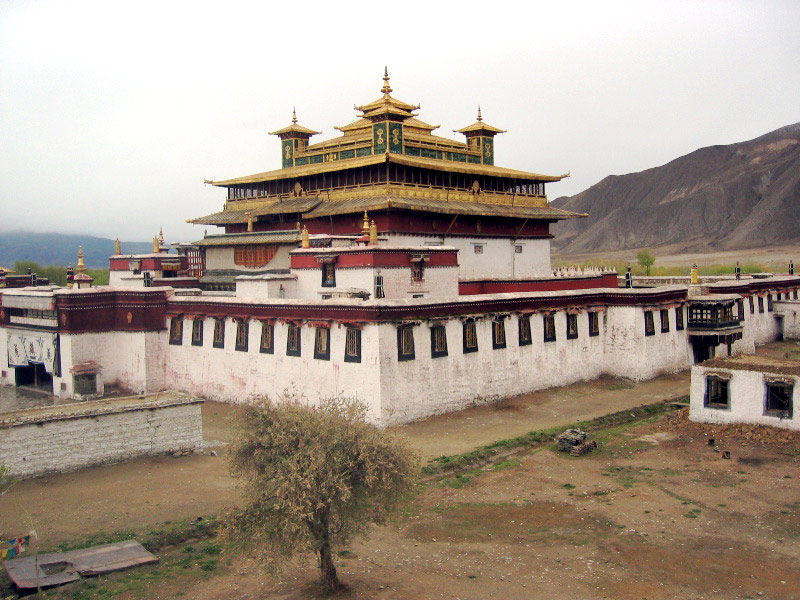 Samye Gompa – Central Temple
Astrology and Sacred Sites:  Gemini & Virgo Samye Gompa the oldest monastery in Tibet
The monastery of Samye Gompa was constructed in 775, under the guidance of the great tantric master Padmasambhava (Guru Rinpoche) and Śāntarakṣita the abbot of the Indian monastic university of Nalanda. Padmasambhava personally led the inauguration of the temple. The meaning of Samye is "beyond all imagination" and Samye Gompa was designed in the form of a mandala.
Samye Gompa the first and oldest Buddhist monastery in Tibet was built in the constellation of the earth sign Virgo with the air sign Gemini. This applies to morphogenetic radius/field level 3, which shows how the place is embedded in the surrounding area. The position in Gemini reflects the fact that the site lies at an important road crossing and indicates that training and education were main reasons for building the monastery here. Virgo the sign of Indian yoga, monk and meditation culture stands for celibacy, abstinence and self-cleaning and other important aspects of monastic life here.
The astrological combination of Gemini with Virgo may indicate that strategic considerations were decisive for choosing the construction site. It was chosen as an ideal place for an outpost inteded to spread Buddhism to Tibet. In regard to the entities of the spiritual plane, the constellation hints at the resonance with beings of the realms of nature and plants such as dwarfs, gnomes and elves.
Tibet, Buddhism, India & Hindu temples in my astrogeography blog:   The source of the river Ganges in Cancer-Scorpio, Sri Amarnath Shiva Lingam in Aries with Cancer, Shiva in two water signs, North Sentinel Island the most isolated tribal population on the planet, Gemini and Aries – A Statue of Hanuman, The Rock Fortress of Sigiriya, Sri Gomateshvara – A Bath of Milk and Honey, Astrology & Sacred Sites: The Golden Temple, Krishna`s Birthplace, The Temple of Buddha`s Illumination, Taurus and Scorpio – The Taj Mahal in Agra, Temples of the Sun and the Planets in India, Aquarius the sign of India`s only Radha Rani Temple, Kandariya Mahadeva Temple in Khajuraho, The Mystical Buddhist Monastery of Nalanda in Astrogeography, The Navagraha Temples for the planets in Hindu Astrology and other places related to Nadi Astrology, A Kali Temple in Libra the Sign of the Angels, Meenakshi Aman Temple in astrogeography, The Rock Fortress of Sigiriya, Jokhang Temple in the Tibetan capital Lhasa, Gemini & Virgo Samye Gompa the oldest monastery in Tibet, The White Horse Temple – The first Buddhist Temple in China, The 2015 Ratchaprasong bombing in astrogeography, Murugan – A God of War in Aries the Sign of Warfare