Heaven`s Gate on the point of the winter solstice on Tianmen Shan
Heaven`s Gate on the point of the winter solstice on Tianmen Shan. Astrology & Sacred Sites: Heaven`s Gate on top of the Sacred Tianmen Shan Mountain of China
Related articles: Astrogeographic position of Beijing – transits for the capital of China, Sagittarius and Capricorn – The Forbidden City in Beijing,  Astrology and Sacred Sites: The Sacred Mountains in China, White Horse Temple – the first Buddhist Temple in China, Astrology and Sacred Sites: The Longmen Grottoes at Luoyang, The Legendary Shaolin Monastery, The Lucky Coin Structure in Sagittarius, The Tian Tan Temple of Heaven in astrogeography
Astrology & Sacred Sites:  Heaven`s Gate on the point of the winter solstice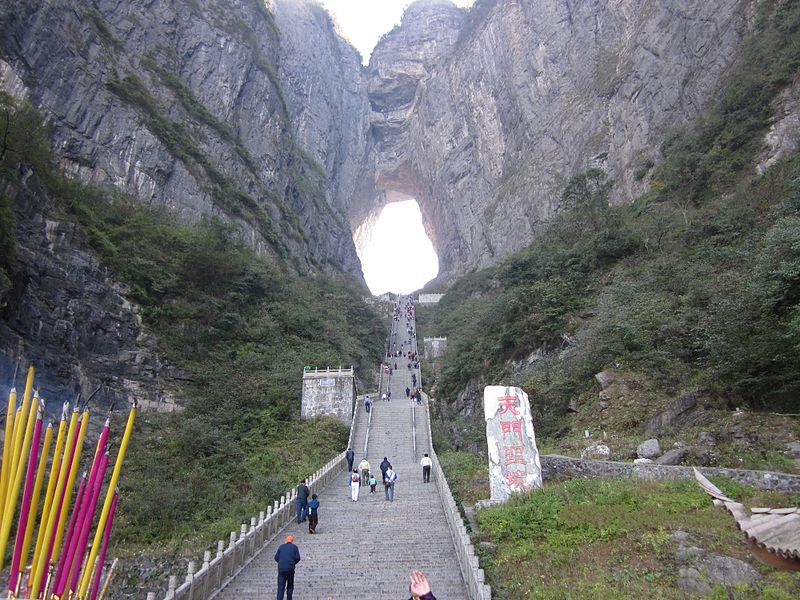 Heaven`s Gate is a natural hole and gateway on top of Tianmen Mountain in the nortwestern province of Hunan, China.
Astrogeographic position for morphogenetic field level 4 which describes the atmosphere and energetical topics of the mountain gate itself: the gate is located right on the actual degree of a "check-post at the gate of heaven"  which lies on the cardinal divide and winter solstice point of 0° Capricorn. This is the astrological degree where St. Michael and St. Peter are the mythological guardians between the world of human perception of the mental plane (Sagittarius) and the non-dualistic sphere of the spiritual plane (Capricorn)  When climbing up the stairs the pilgrims are approaching this entrance to heaven from the south.  The 2nd astrogeographic coordinate of the gate falls in dynamic, male fire sign Aries the sign of action, speed, warfare, mobilization, sports and the start of new undertakings.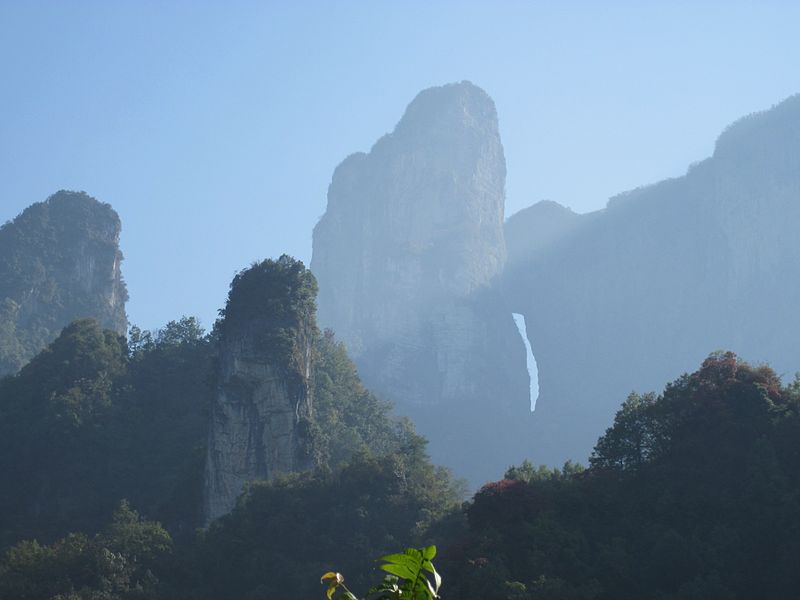 For the position on a cardinal divide compare also: From Gemini into Cancer – a Pathway into a Vagina, Bighorn Medicine Wheel in Capricorn and Aries, The Little Mermaid as a Guardian
The direct resonance with the Temple of heaven in Beijing
Compare: The Tian Tan Temple of Heaven in astrogeography
The Tian Tan Temple of Heaven in Beijing is located 1300 km north-east of the Gate of heaven on Tianmen Shan. These two sites are in direct resonance with each other through their position on 0°Capricorn.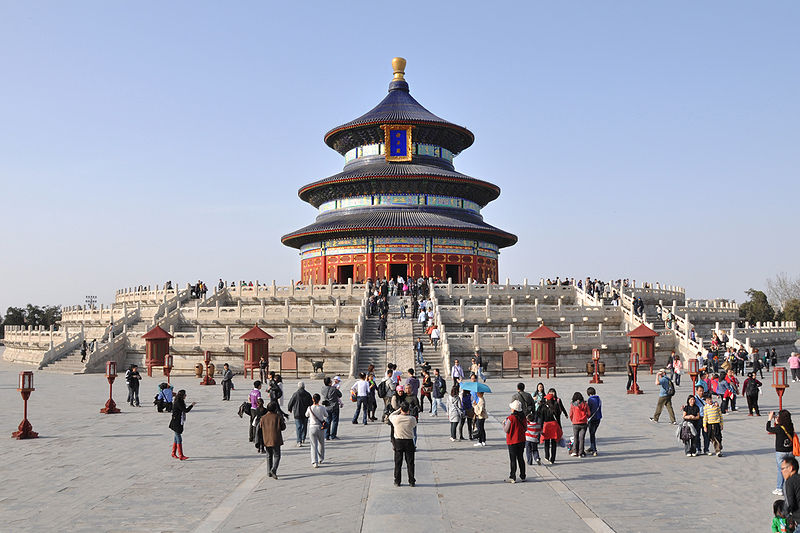 Sheraton Hot Spring Resort on the divide of the autumn equinox
Sheraton Hot Spring Resort is located near Taihu Lake in Huzhou, China.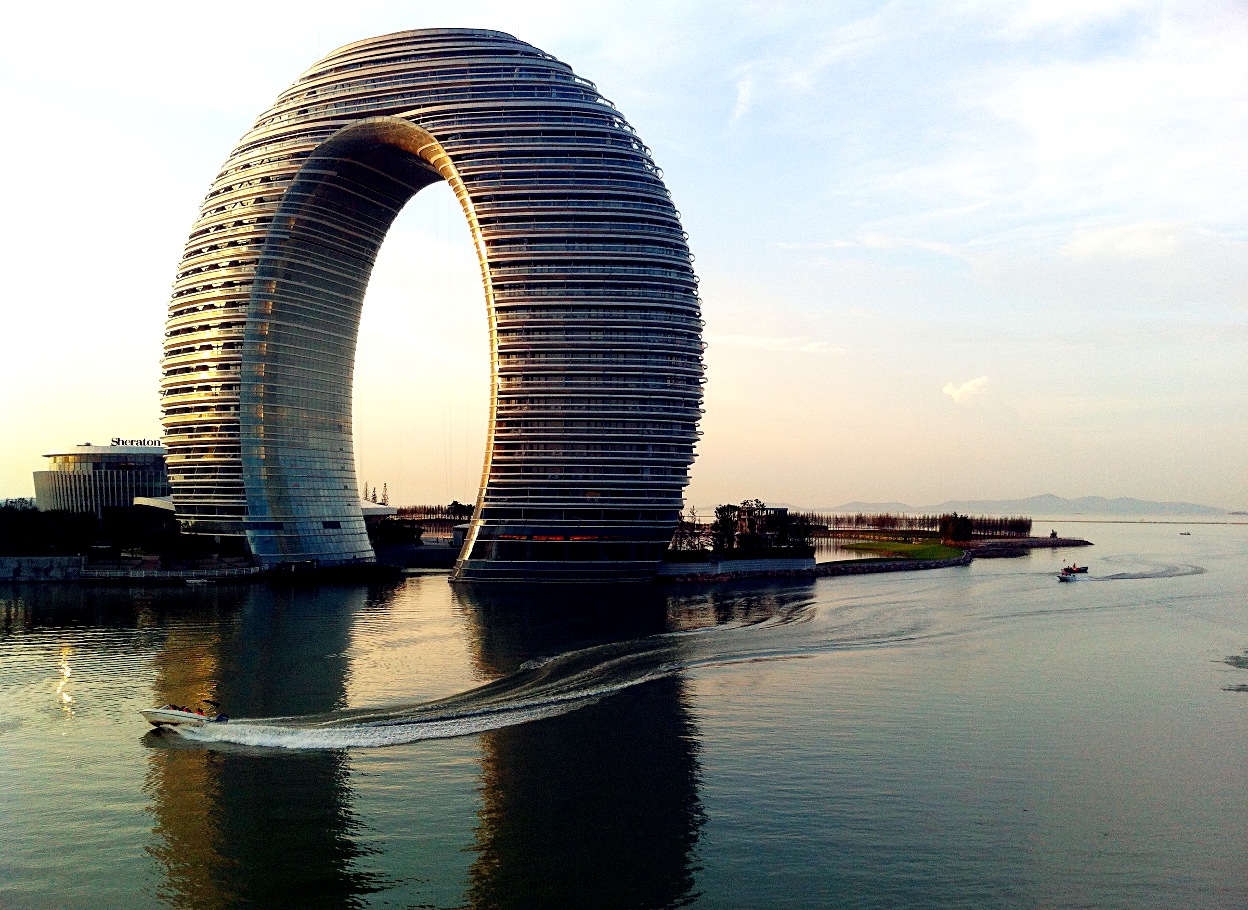 Astrogeographical position for morphogenetic radius/field level 3, which describes how the site is embedded in the surrounding area: Sheraton Hot Spring Resort was built with its midpoint on the cardinal degree of 0° Libra in such a way that the western half falls in the earth sign Virgo and the eastern half in the service orientated air sign Libra the sign of beauty, decoration and relationship and main indicator for Chinese culture. The 2nd coordinate is right in the center of solid, conservative, strict earth sign Capricorn indicator for the stability of the completely indvidualistic and unprecedented form of the building.