Astrology & Architecture: The Lucky Coin Structure in Sagittarius. An astrogeographical analysis of a Feng Shui motif in modern chinese architecture.
Related articles: Shaft, bow and balls in Sagittarius, Sagittarius as the sign of triumph, victory and the City of Paris, Scorpio as the sign of sculpting, Sheraton Hot Spring Resort on the divide of the autumn equinox, Heaven`s Gate on Tainmen Shan, The Gate of the Orient on the degree of the summer solstice.
The Lucky Coin Structure in Sagittarius
The 138 m tall Guangzhou Circle or  'Lucky Coin" structure is located on Pearl River, Guangzhou, China. It is the headquarters of the Hongda Xingye Group and the new home of Guangdong Plastic Exchange (GDPE),  as by 2012 the world largest trading center for raw plastic material with 25 billions euros of annual turn over. The Architect Joseph di Pasquale was  born on 24 April 1968 in Como, Italy.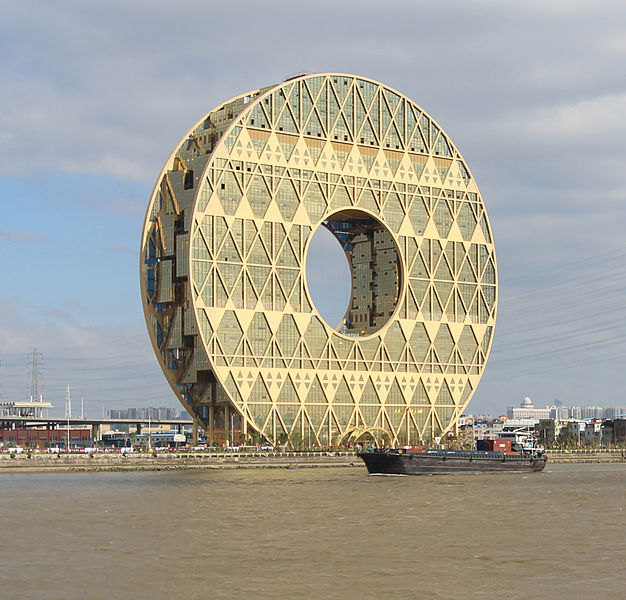 Astrogeographic position for morphogenetic field level 3 which describes the atmosphere and energetical topics of the building itself: one coordinate is located in dynamic fire sign Sagittarius the sign of luck, victory, expansion, success and luxury. Sagittarius is symptomatic of the emphasis on the style , design, fashion and ornamentation achieved through the presentation of the building here.  Sagittarius naturally relates to all round forms of buildings. The fact that unlike in chinese coins the inner circle of the building is round too emphasizes the role of Sagittarius.  As the sign of the archer, bow, arrows, shooting and the target Sagittarius relates to the presentation of the potential function of the inner circle as a target.
The second coordinate is in solid. fixed water sign Scorpio the sign of sculpting. sculptures, imaging, metal-working, welding, steel enforced concrete and steel construction. Scorpio relates to the fact that the whole building is designed as a compact, gigantic sculpture. Compare my article Scorpio as the sign of sculpting
The completion ceremony was held on December, 16 2013 with the Sun and Mercury conjunct in Sagittarius and the Moon in Gemini.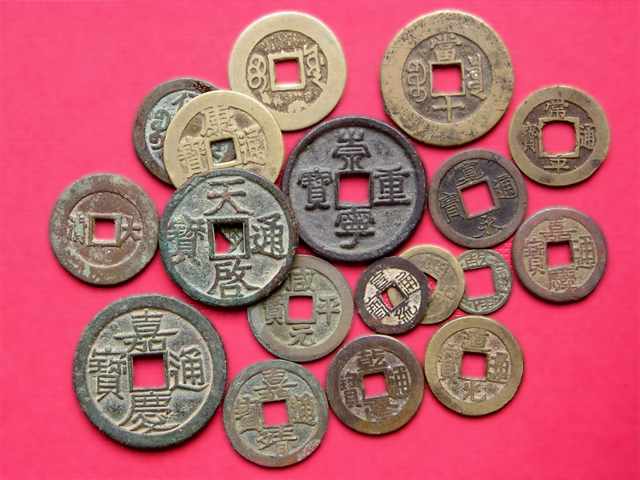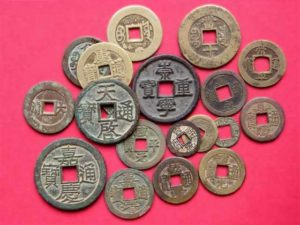 One idea is that the building resembles a lucky coin used for Feng Shui although in fact these have square holes in the middle  One idea for the hole in the center is that it`s function is to allow energies to pass through.  Another is that it allows the lucky chinese dragons to pass through, a feature of design frequently found in  Hongkong`s Feng-Shui architecture.
Feng-Shui architecture of the Repulse Bay Mansions in Hong Kong
Sagittarius as the sign of round forms but in an apparently rectangular design. You think that sounds ambiguous? That may be – but the explanation is interesting!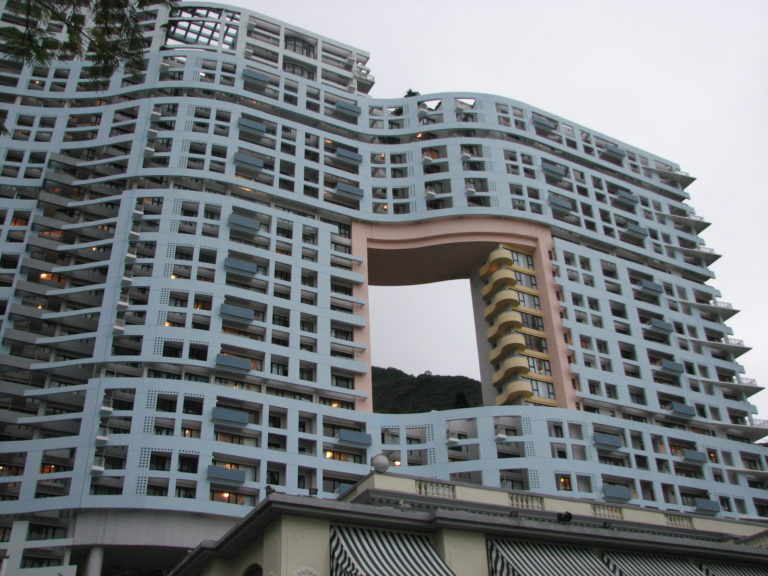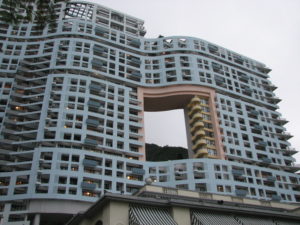 In the wikipedia article some explanations of the design of the building are provided for the point of view of modern not necessarily traditional feng-shui related architecture: "The building is similar to another circular building in Shenyang, although its central hole is hollow rather than enclosed by glass. It is the world's tallest circular building and with the unique feature of its almost fifty meters wide empty hole in the center (48 mt). Together with some other samples (as Aldar headquarters building) it's starting a new way in landmark buildings for the third millennium not anymore based on the stereotype of western skyscraper. The designer stated that he was just looking for a landmark bustling based on the oriental psychology and perception, finding in the Chinese use of symbols in writing a possible inspiration. In fact the building is also called a "urban ideogram". Many other meanings are linked with the building: the iconic value of jade discs and numerological tradition of Fengshui. In particular, the double disc of jade (bidisk) is the royal symbol of ancient Chinese dynasty that reigned in this area around 2000 years ago . The building reflected in the water of the river creates exactly the same image: a double jade disc. This figure also corresponds to the number 8 and infinity symbol that Chinese culture has a strong propitiatory value.Just remember how the date and time of the start of the Beijing Olympics was for the same reason fixed to 8:08 am of August (8), 8th 2008. But the building is also a clear reference to the theme dear to the Italian Renaissance "quadratura del cerchio" (squaring the circle). The two circular facades in fact contain and support suspended groups of storeys that are actually "squaring" the perfect circumference of the facades in order to make the interior space orthogonal and habitable."