Capricorn and Sagittarius – The Temple of Zeus in Olympia. On the astrology and astrogeography of Zeus and his temples
Related articles: The birth place of Zeus in Sagittarius, Sagittarius and Capricorn – The Forbidden City in Beijing, Vatican City and St. Peter`s Basilica in Rome, Facebook Headquarters, Libra and Aries – The Oracle of Delphi, Three Steps to Mount Olympus, The Temple of the Eleusinian Mysteries, The Lincoln Memorial in astrology, On the competition between Zeus and Poseidon,
Capricorn and Sagittarius – The Temple of Zeus in Olympia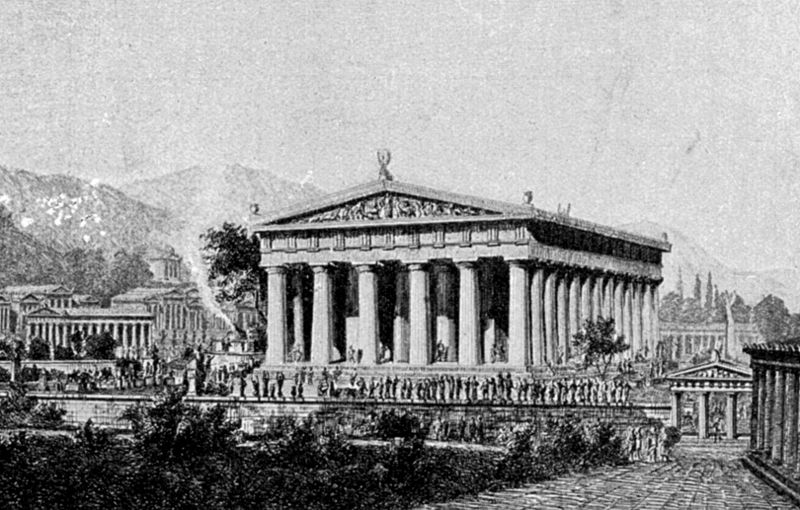 The Temple of Zeus in Olympia was constructed between 472-457 BC as the central place of worship for the ancient Olympic Games held here every 4 years since 776 BC. Inside the temple stood the legendary statue of Zeus by the sculptor Phidias, which was one of the seven wonders of the ancient world.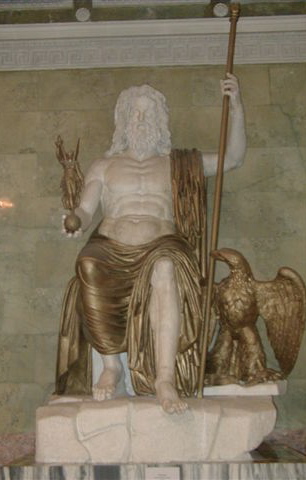 Astrogeographical position of the sanctuary of Olympia with the Temple of Zeus and the slightly older Temple of Hera 100 m north of it for morphogenetic field level 3 which describes the energetical topics, function and atmosphere of the sanctuary: one coordinate is located in solid, strict, conservative earth sign Capricorn the sign of stability, history, tradition, government institutions and indicator for the site of a state cult and dogma. The second coordinate lies in dynamic mental fire sign Sagittarius sign of style , design, fashion, ornaments, shamanism, initiation and the priest castes.
The combination of Sagittarius with Capricorn is often referred to as the constellation of the golden section (or golden ratio) and stands for the durability of institutions. In this regard Olympia is to be compared to the site of St. Peter's Basilica in Rome which stands in the same sign combination. Capricorn with Sagittarius is to be considered to be one of the major constellations for places that have the quality for government and representation seats. Sagittarius stands for the faculties of science and knowledge and especially for the institutions for higher education while Capricorn symbolizes the reflex of wanting to control public life and thus stands for the sovereignty claim of the state.
Last but not least in the long history of astrology Zeus has been referred to as Jupiter, which is the ruling planet of Sagittarius, so that his temple was constructed in Zeus` own sign of rulership here. The combination of Sagittarius with Capricorn emphasizes the role of the Olympic Games as a demonstration of the authority and strength of governments.