A "So Sagittarius Sculpture". Astrology, Astrogeography, Mystical traditions and sculpting: the pilgrims sculpture on Mount Gozo at Santiago de Compostela.
Related articles: Saint Michaels Mount and Mont Saint Michel in Sagittarius, Astrology & Architecture: shaft, bow and balls in Sagittarius. Astrology & Sacred Sites: The magic Spring of Lourdes, Scorpio as the sign of sculpting, Gemini and Sagittarius – The Stonehenge Monolithic Circle, The Birth Place of Jesus in Pisces and Sagittarius, Libra and Leo – The Sanctuary of Fátima, The Church of Saint Francis in Assissi
A "So Sagittarius" sculpture:
"Ultreya – Ultreya!!" (meaning "further – further!!! go ahead!!!") was the mantra of medieval pilgrims on the Camino de Santiago (Way of St.James) pilgrimage route. The origins of the pilgrimage to the Santiago de Compostela shrine date back to the 9th century.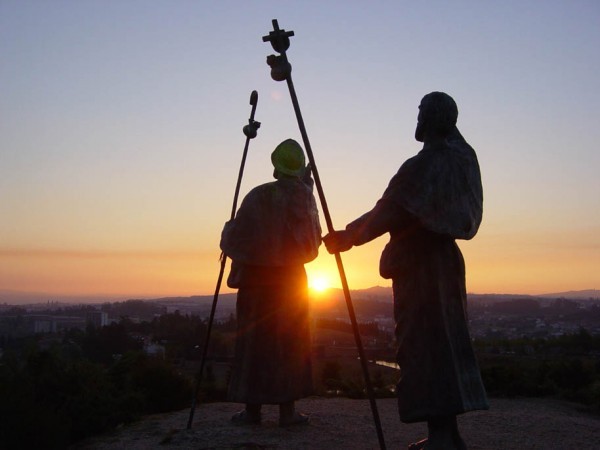 The bronze sculpture on on Monte de Gozo on the outskirts of Santiago de Compostela depicts 2 pilgrims watching the sun set over the towers of the Cathedral of Santiago de Compostela, Spain the aim of the Santiago pilgrimage where the magical relics of St. James the apostle are said to be kept.
In the system of my Astrological Worldmap field studies the astrogeographical position of the site of a sculpture for morphogenetic field level 4 (exact position) describes the energetical topics of the sculpture itself. According to my calculation the resonance coordinates of the sculpture are: both resonance coordinates are located in fire sign Sagittarius the sign of travelling, searching, aiming, preaching, believing, shamanism, priests, fire rituals, observing, thinking about, reflecting and understanding the initiations of the physical activity, sufferings, euphoria and the cleansing fires and hells that pilgrims go through on the road to the holy sanctuary of the Compostela shrine at Santiago in the province of Galicia in North-Western Spain.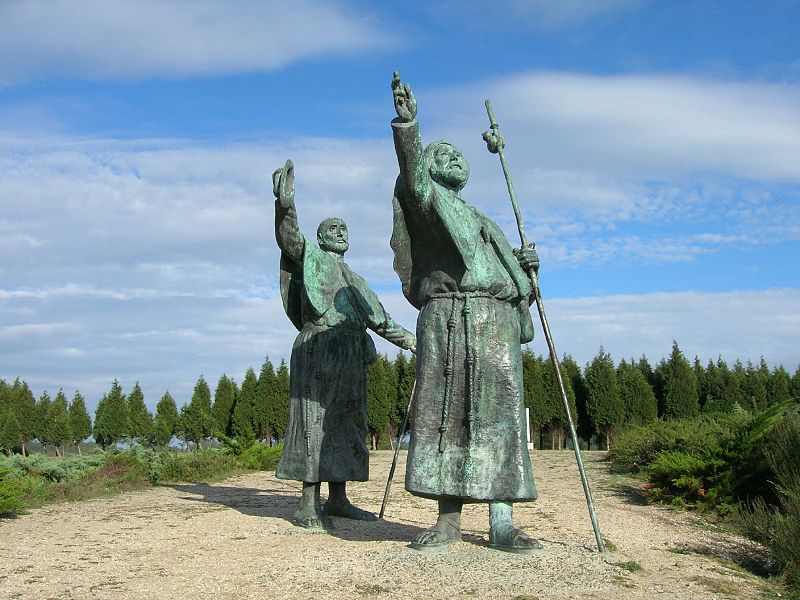 Sagittarius depicts the essence of the experience of being on the road – the so called "La Strada" and the momentum where the experience we go through is the actual aim of the journey and not the final destination. For a deeper understanding the similes that relate to the 9th stage in the systemical zodiac represented by the Sagittarian symbolism are to be sought in its function as the the sign of the archer, arrow and bow, the sextant, semi-circle, notch and bead, scope, shooting at aimed destinations, attempting to hit targets by following our aims in life and the euphoria, happiness triggered by experienced success when the mentally calculated path hits a target. At the same time Sagittarius also stands for the disillusionment experienced at the end of the road when an achieved goal and destination aimed turns out as the limit of experience making us search for new destinations to go further and further: Ultreya – Ultreya!!!!!