The Mahabodhi Temple Tower in Aries and the difference Libra makes
The Mahabodhi Temple Tower in Aries and the difference Libra makes.  Astrolgy, Architecture & Design:  on the antagonism between female sign Libra and  male sign Aries in architecture
Related articles: Libra as the sign of symmetry, Characteristic features of Aries
Another example for a central tower located in Aries is the Mahabodhi Temple near the site of Buddha`s enlightenment. The Mahabodhi (literally: Temple of Awakening) Temple  in Bodh Gaya was first constructed in the 3rd century BC. The current structure is as old as the 5th century AD.
The exact astrogeographic position (field level 4) of the temple lies in the subdivisions of  Aries with Libra of a larger surrounding area  (field level 3) which has both coordinates in highly relaxed, mystic, spiritual water sign Pisces the sign of the spiritual plane.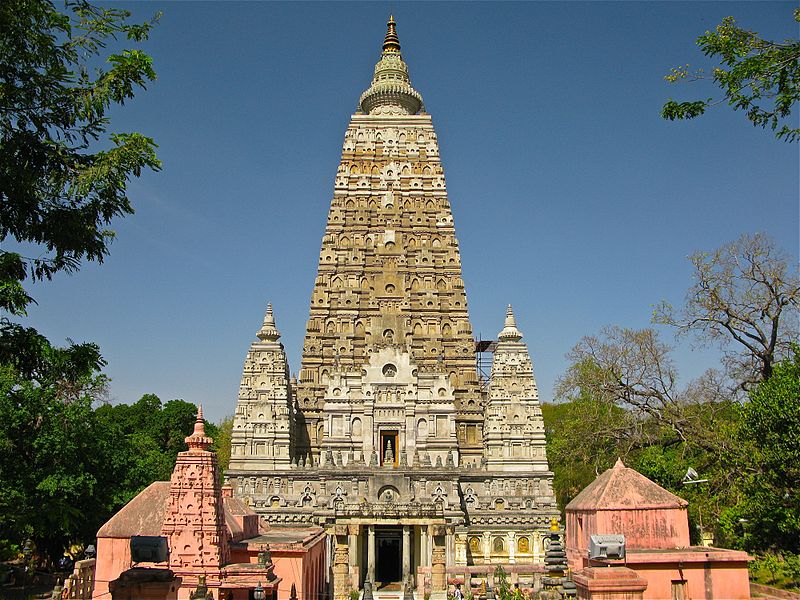 The temple consists of a central tower with an ornamentation that resembles a typical hindu temple tower, but with a conical, sharp, stupa-like  tip.
The tower is placed on a square platform  with 4 equally tall small towers occupying the 4 corners. The central position of the tower is a clearest element of design often found in Aries. The attempt to ground the tower by creating a  balance between the central main tower and the surroundings area by the 4 corners towers and the symmetrical design and decoration is symptomatic of the presence of Libra.  Compare:  Libra as the sign of symmetry.
The difference to Halgrimskirkja (Aries with Aquarius) lies in the decoration and the "relativization" of the main tower by the corner towers. These elements take away some of the acuteness and single-dimensionality of the image created by the design of Halgrimskirkja.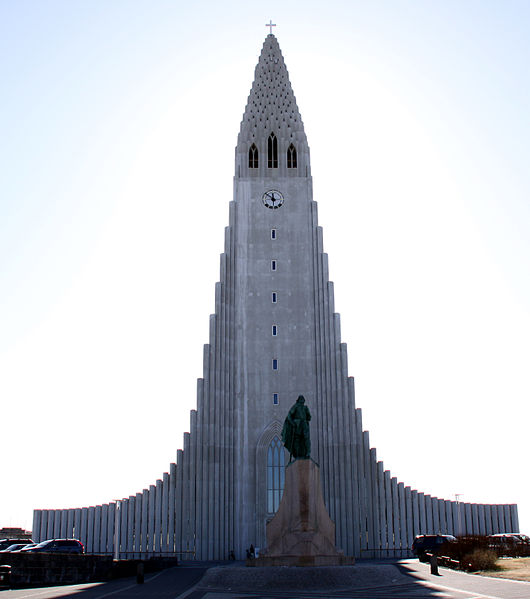 India & Hindu temples in my astrogeography blog: Astrology, Spirituality & Sacred Sites: Shirdi Sai Baba, The Mahabodhi Temple Tower in Aries and the difference Libra makes, The Swaminarayana cult – an Astrogeographical Study of a modern Hindu Sect, The Hindu Gods Vishnu and Narayana in astrogeography, The Shakti Peetha shrines, The Sites of the 12 Jyotirlinga in Astrology,   The source of the river Ganges in Cancer-Scorpio, Sri Amarnath Shiva Lingam in Aries with Cancer, Shiva in two water signs, North Sentinel Island the most isolated tribal population on the planet, Pashupatinath Temple in Kathmandu,  Gemini and Aries – A Statue of Hanuman, The Rock Fortress of Sigiriya, Sri Gomateshvara – A Bath of Milk and Honey, Astrology & Sacred Sites: The Golden Temple, Krishna`s Birthplace, The Temple of Buddha`s Illumination, Taurus and Scorpio – The Taj Mahal in Agra, Temples of the Sun and the Planets in India, Aquarius the sign of India`s only Radha Rani Temple, Kandariya Mahadeva Temple in Khajuraho, The Mystical Buddhist Monastery of Nalanda in Astrogeography, The Navagraha Temples for the planets in Hindu Astrology and other places related to Nadi Astrology, A Kali Temple in Libra the Sign of the Angels, Meenakshi Aman Temple in astrogeography, The Rock Fortress of Sigiriya, Jokhang Temple in the Tibetan capital Lhasa, Gemini & Virgo Samye Gompa the oldest monastery in Tibet, The White Horse Temple – The first Buddhist Temple in China, The 2015 Ratchaprasong bombing in astrogeography, Murugan – A god of War in Aries the sign of Warfare