Astrology & Magic Places: Dudhsagar Waterfalls in Goa
On the astrogeographical position of the milk-white-falls where the waters of the Karnataka high plains fall down into the lowland of Goa.
Related articles: On the competion between Poseidon and Zeus, Neptune and Jupiter, India in the astrogeography blog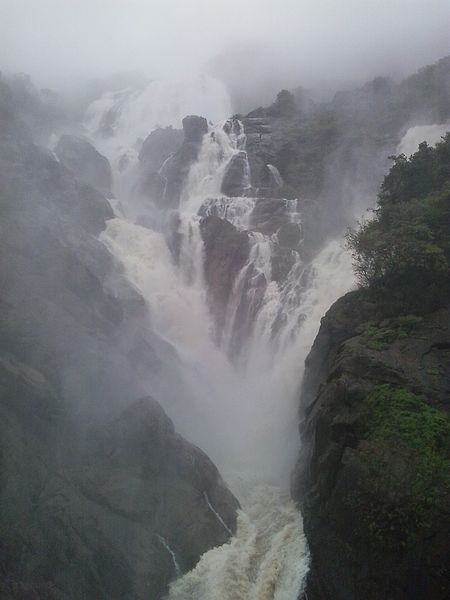 Dudhsagar Falls (literally Sea of Milk falls) are a 310 m high major waterfall of the Mandovi River in the Bhagwan Mahaveer Sanctuary and Mollem National Park on the border between the states of Goa and Karnataka in India. During the monsoon season the Dudhsagar Falls form a huge force of water that flows down from the Karnataka high plains towards sea level in Goa.
Astrogeographic position for morphogenetic field level 3 which describes the energetical topics of the location and how the area is embedded in the landscape: the Dudhsagar Falls are located in the combination of mystic spiritual water sign Pisces sign of imagination,  dreaming, reconnection with the spiritual plane, temples and holy places with dynamic fire sign Sagittarius sign of initiation, expansion, growth, volcanic activity, shamanism and travelling.
The astrological combination of Pisces with Sagittarius – brings together the water and fire elements.