Andromeda and the Milky Way earth works at Crawick Multiverse near Sanquhar, in the Scottish Borders. A short astrogeographical analysis.
Related articles: Cancer with Taurus: Hagia Sophia as a temple of the earth mother, The Stardreaming Temples Project in New Mexico, Valley of Saints of Britanny,
Andromeda and the Milky Way earth works at Crawick Multiverse
Andromeda and the Milky Way earth works: The comet walk is a ridge trail with white-yellow sandstone emulating comets' tails — leads to the Belvedere, a lookout offering a panoramic view of the surrounding countryside at Crawick Multiverse designed by architect and designer Charles Jencks near Sanquhar, in the Scottish Borders. The project is located on the site of a former open cast coal mine and covers approximately 55 acres making it the largest of Jencks' works in Britain.
Charles Alexander Jencks is a cultural theorist, landscape designer and architectural historian born on June 21, 1939 n Baltimore, Maryland with the Sun between Gemini and Cancer, a Mercury-Chiron conjunction in Cancer, Moon in Leo and Uranus in Taurus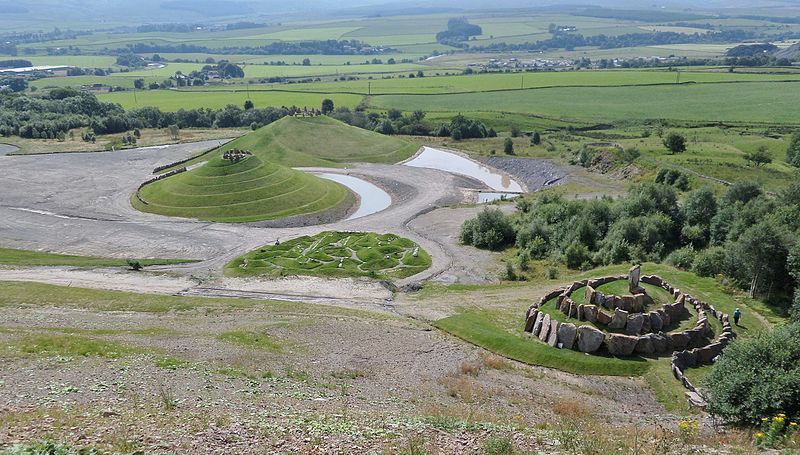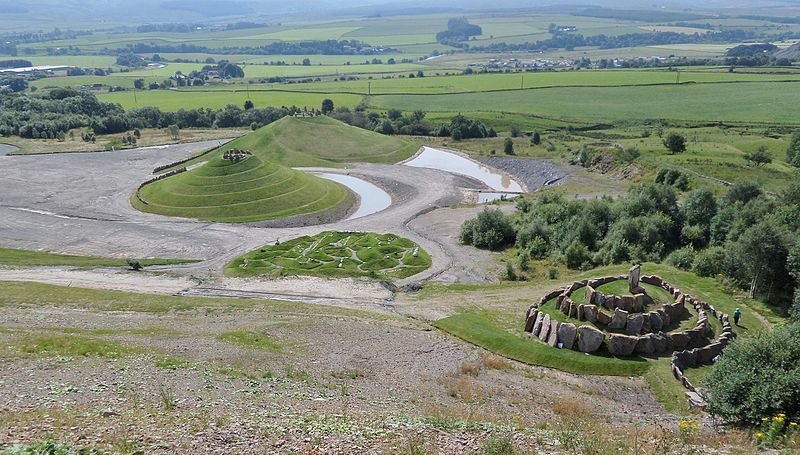 Astrogeographical position for morphogenetic field level 3 (surrounding are) which describes the energetical, situation, atmosphere and function of the earth work: the coordinate for the  astrogeographical longitude is located in earth sign Taurus sign of the earth, grounding, roots. local energetical centres. The position in female earth sign Taurus explains the perspective of looking at the milky way and cosmic phenomena as from an earthly and grounded point of view.
The astrogeographical latitude coordinate lies in between emotional water sign Cancer sign of motherhood, the moon, fertility, pregnancy, milk and emotional authenticity in the north half of the earthwork and highly magnetic royal fire sign Leo sign of the sun, light, self-expression, self-centerdness in the south.
The combination of the signs of rulership of the three most important astrological planetary factors the Earth, Moon and Sun explains the site as a place of resonance concentrated on our own solar system itself and not on the depicted stellar formations in the first place, This can be interpreted as highly positive and promising as the sphere of the extra-terrestrial realms can be dealt with from a potentially more realistic and practical point of view.