The Top 10 most luxurious Hotels in astrogeography. Astrology, Hotels & Tourism: an astrogeographical overview of the astrogeographical positions of hotels on two top 10 lists from the year 2014
Compare: Travelandleisure`s Top 30 Hotels in 2014 in astrogeography, Lonelyplanet`s low budget best value stays in astrogeography, Top 10 most luxurious Hotels in Astrogeography, Astrology & Lifestyle: the Top 20 Restaurants in the world, Hotels and Travels – the astrogeographic positions of hotels, resorts and beautiful places to stay, Bars, restaurants & pubs in astrogeography,  Astrology and Astrogeography for Holidays, Travelling, Booking a Hotel.
For a collection of astrogeographic desciptions of the positions of hotels worldwide take a look at my pinterest blog page "Hotels and Travels"
The astrogeographic positions of the Top 10 or Top 100 hotels and destinations lists of the large travel magazines explain the preferences of their editorial department and the target groups of their publications. And they provide intense documentations about the astrological and abstract topics of the different categories of hotels and tourism in general. This is a journey in itself – and I´m inviting you to enjoy a deeper look into the astrology of the tourism industries and of course the many interesting touristic places on our planet.
The next two lists provide astrogeographical data about the positions of the most luxurious hotels in the world.
To see what we are talking about here take a look at the video: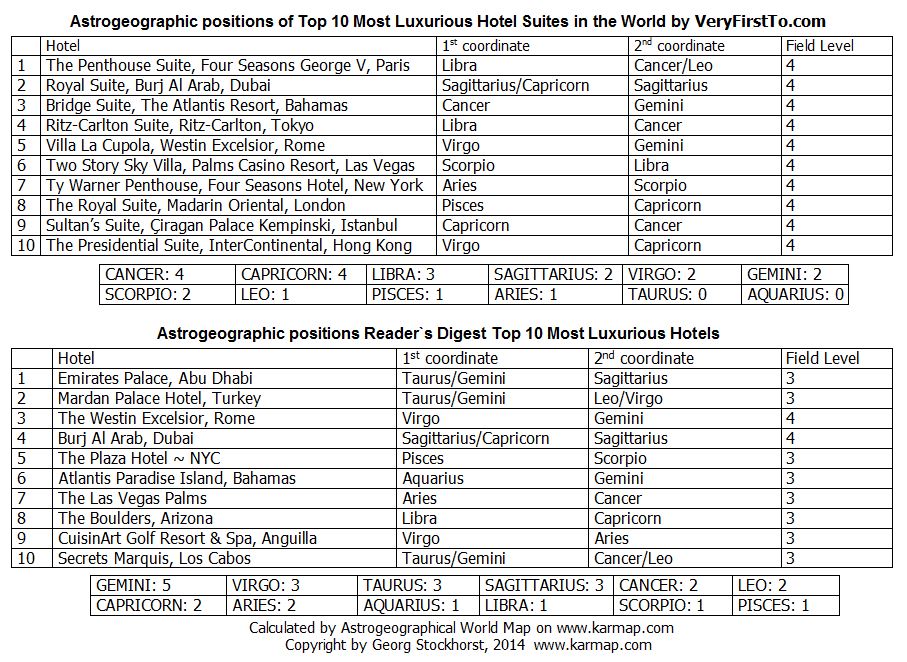 The two list above are from 2 different sources and slightly different categories.  One is for the sites of the most luxurious hotels and mostly calculated for morphogenetic field level 3 because these are mostly really big hotels. The sites of the suites are calculated for field level 4 which is a lot smaller and relates to single although very large appartments.
Of the two spiritual signs Aquariust he sign of nudism, tents, sleeping under the open sky and striving for purification would not have been expected as a typical indicator for a luxury  bunker. But highly imaginative, relaxed, romantical Pisces seems not to be an intriguing factor for the site of the top luxury hotel rooms.  Aries as the sign of action, fighting and new starts is as I mentioned before only typical for sport hotels.
I found it a bit suprising that Taurus doesn`t appear at all at the sites of the top luxury hotel suites. Taurus` strong relationship to grounding and agriculture may simply not be thrilled by the idea of extremest luxury and rather crave for a somewhat more realistic grounding experience of a place.
Exclusive Capricorn the sign of the ruling class and self-centered Cancer as the main signs of the superluxury hotel suites seem quite plausible. In regard to places Cancer as the sign of feeling at home and emotional authenticity at least to some extent may represents a garantee that the overluxurious  aspect of a room is not too disturbing or distracting from other the more important issues.