Lonelyplanets low budget best value stays in astrogeography. Astrology, Hotels & Travelling: A short introduction into the astrogeographical positions of hostels
Compare: Compare: Travelandleisure`s Top 30 Hotels in 2014 in astrogeography, Lonelyplanet`s low budget best value stays in astrogeography, Top 10 most luxurious Hotels in Astrogeography, Astrology & Lifestyle: the Top 20 Restaurants in the world, Hotels and Travels – the astrogeographic positions of hotels, resorts and beautiful places to stay, Bars, restaurants & pubs in astrogeography,  Astrology and Astrogeography for Holidays, Travelling, Booking a Hotel.
The astrogeographic positions of the Top 10 or Top 100 hotels and destinations lists of the large travel magazines explain the preferences of their editorial department and the target groups of their publications. And they provide intense documentations about the astrological and abstract topics of the different categories of hotels and tourism in general. This is a journey in itself – and I´m inviting you to enjoy a deeper look into the astrology of the tourism industries and of course the many interesting touristic places on our planet.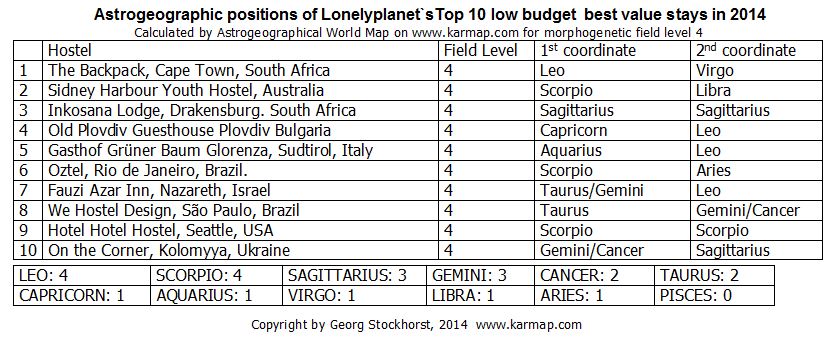 The astrogeographical positions on the Lonelyplanet list of top hotels provides an insight into the qualities that matter for the backpacker hotels. At one glance the comparison with the luxury hotel orientated  Travelandleisure`s Top 30 Hotels list reveals that the preference of the astrological qualities of the places is almost reverse for the low budget hotels: Virgo, Pisces and Libra the leaders in the luxury hotel market segment appear as useless or at least untypical here, while Gemini and Leo seem to play about the same role as the do for luxury hotels.
It is no surprise that dynamic fire Aries can not be at the top of the list of low budget stays at is appears to play a minor role for hotels unless they are dedicated to sports.
Highly energetic Leo has takes the lead and this is plausible because it stands for an atmosphere that supports being together in groups of people which is only natural for low budget places where rooms are much smaller and dormitories not exceptional. This on the other hand may be the reason why Virgo is no typical indicator for low budget hotels as it`s atmosphere may tend to enforce the sound of snoring neighbours or the smell of their travelling boots and socks at night.