Gemini and Scorpio – Jesus in Transsylvania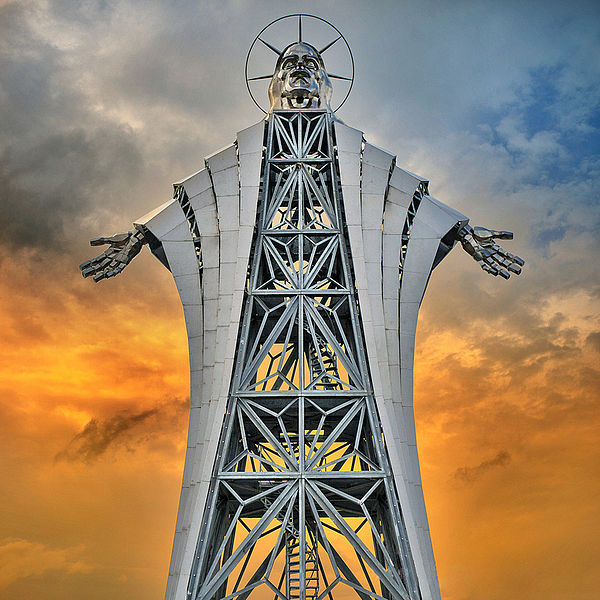 Gemini and Scorpio – Jesus in Transsylvania
The sculpture "Jézus-szíve kilátó" (Heart of Jesus Lookout Tower) was erected on a hilltop in near the town of Lupeni (hungarian: Farkaslaka) in Transsylvania in the year 2011. It is 22 m high, made of stainless steel and was designed by the sculptor Walter Zawaczky.
The construction site is situated in the constellation of the water sign Scorpio with the air sign Gemini. This applies to astrogeographical radius level 3, which describes how the site is embedded in the surrounding area. Scorpio stands for the concept of colossal sculptures and for sculpture work in general. The air sign Gemini stands for the air inside the sculpture`s body and for the way its constructional details are displayed here. Among the 12 apostles of Jesus Thomas the so called "Unbeliever" is related to the aspect of Gemini. This does not mean that Thomas had no faith, but rather that he was trying to understand spiritual matters instead of mystifying them in the first place. Gemini does not stand for religious places because of its reflex to question beliefs and hyrarchies in general. This does not necessarily mean that it has to exclude spirituality or that it is of no value for for a spiritual quest.
The religious or spiritual aspects of Jesus are not presented as the first and main elements of the sculpture, at least not in a traditional way. The concept of displaying how Jesus can be constructed of steel elements can bee seen as a criticism and provocation implying that the traditional image of Jesus is a construction and a hypothesis.
Gemini stands for ways, roads and tracks. Therefore the staircase inside the sculpture can be interpreted as an aspect of Gemini. In the same way the fact that the statue is not only there for looking at it, but for trying it out, for example by taking a look at the world right through the eyes of Jesus, is an element of the sign of Gemini.
The "Heart of Jesus Lookout Tower" is one of numerous examples for astrogeographic constellations, where Scorpio appears as the sign of the stonemasonry and blacksmith trades together with large sculptures.
Compare: Scorpio is also present at the site of the "Christo Redentor" statue in Rio. Metalmorphosis Scorpio-Virgo, Crazy Horse Memorial Scorpio- Taurus/Gemini
The Statue of Liberty Scorpio-Leo, Jesus in Transsylvania Scorpio–Gemini
The Buddhas of Bamyan Scorpio-Libra, Sri Gomateshvara Statue Scorpio-Taurus
Sanctuary of Göbekli Tepe Scorpio-Capricorn, Colossal Shiva Scorpio-Cancer
Sigiriya Scorpio-Scorpio, Mountain Sanctuary of Göbekli Tepe Scorpio-Capricorn,                       The Kelpies Scorpio – Sagittarius, Golden Buddha of Wat Traimit Scorpio – Leo                        Statue of Nostradamus Scorpio – Scorpio