Santa Barbara's Moreton Bay Fig Tree – astrogeographical position
Compare: The tree of Life, Árbol del Tule with the stoutest trunk of any tree in the world, Bristlecone Pine Forest: Sagittarius as the Sign of Conifers, The largest Cashew tree on the planet, General Sherman Tree, The Tree of Life in astrogeography, Santa Barbara's Moreton Bay Fig Tree, The Chapel Oak in astrogeography,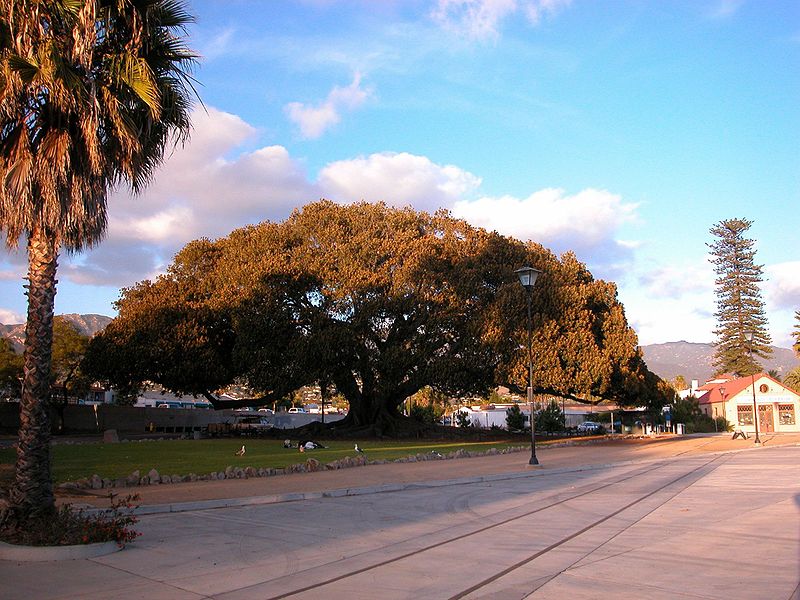 From the wiki article: "Santa Barbara's Moreton Bay Fig Tree located in Santa Barbara, California is believed to be the largest Ficus macrophylla in the United States. A seaman visiting Santa Barbara in 1876 presented a seedling of an Australian Moreton Bay Fig tree to a local girl. in 1876 After the girl moved away a year later, her girlfriend, Adeline Crabb, transplanted the tree to the corner of Montecito and Chapala streets, just a few blocks from the ocean, In July 1997, the circumference of the tree, measured at a height of 4.5 feet (1.4 m) above the ground, was 41.5 feet (12.6 m). The average crown spread was 176 feet (54 m) and the total height was 80 feet (24 m). Measured in 2010, the widest spread of the branches is 198 feet (60 m). The trunk diameter above the buttress roots is 12.5 feet (3.8 m. The roots are protected by a chain barrier the size of the canopy"
Astrogeographical position of Santa Barbara's Moreton Bay Fig Tree for morphogenetic field level 4 which describes the atmosphere and energetical topics of the tree itself: one coordinate lies in solid, fixed, highly defensive water sign Scorpio the sign of water containers, sculptures, fortresses. 2nd coordinate in air sign Libra sign of angels, openness, relationship, love.
Scorpio as the sign of figs? yes possible – gives a special taste to the thought of opening up a figue and sometimes associating the white fibres inside with worms…..! Service orientated Libra may have to deal with the idea of giving fruit trees as a present to the public here. Both signs and also the combination of Venus with Pluto should be examined as possible astrological indicators/resonators of figues.