Astrology & Architecture: Te Rewa Rewa Bridge and the Golden Section
Related articles: The Beauty of Mount Taranaki, Capricorn and Sagittarius – The Temple of Zeus in Olympia, Sagittarius and Capricorn – The Forbidden City in Beijing, Vatican City and St. Peter`s Basilica in Rome,  Facebook Headquarters, Capricorn and Sagittarius – Neptune as a Guardian
Te Rewa Rewa Bridge is a pedestrian and cycleway bridge across the Waiwhakaiho River at New Plymouth in New Zealand.
The bridge is part of the northern extension to the Coastal Walkway, connecting New Plymouth with Bell Block. The extension was made possible by a special agreement between Ngāti Tawhirikura hapū  and the New Plymouth District Council. A historic pā is located on the north river bank and this was the site of a battle during the Musket Wars; the site is a burial ground (Rewa Rewa).
The design resembles a human or fish chest with one semi-circled chest bone and 19 single ribs or fish-bones that connect the main bone with the bridge. Crossing from north to south the axis of the bridge exactly leads onto New Zealands holy mountain and stratovolcano Mt. Taranaki. The installation of the design is arranged in such a way that the fishbones seem to girland the distant image of the magical presence of Mt. Taranaki.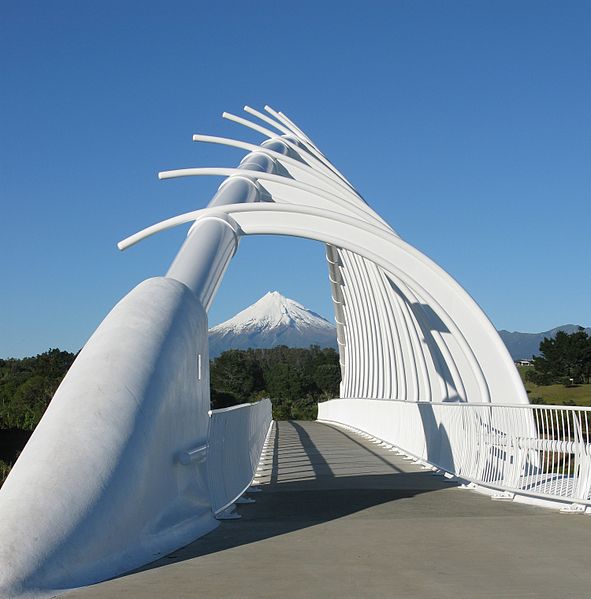 Astrogeographic position of Te Rewa Rewa Bridge for morphogenetic field level 3 which describes how the bridge is embedded in the surrounding area: one coordinate is located in solid, conservative, traditionalistic earth sign Capricon sign of history, stability, government institutions, calcium, bones and indicator for the white colour of the fishbone ornament. The 2nd coordinate is located in dynamic fire sign Sagittarius sign of watching, aiming, hunting, observation, thinking. focus on perspectives, style, design, fashion, composition and ornaments. As the sign of the bow Sagittarius resonates with  the form of the semi-circled main bone and the arrangement of the 19 bow-like rib-bones. As the sign of shooting and hunting and also of shamanism, príest castes, cremation, the cleansing fires and fire sacrifice Sagittarius stands for aspects of the place as a battle ite as well as a burial site.
The combination of Sagittarius with Capricorn includes the topics of the conjunction of Jupiter the planet of aiming with Saturn the planet of hitting the target. This combination of success brings together the climax of the mental plane (Sagittarius with the materialization of the spiritual plane (Capricorn). The combination of Sagittarius with Capricorn seeks to combine and harmonize success orientation with efficiency. This combination relates to the idealization of ornamerntal geometrical concepts such as the golden section.