Gemini plus Leo – the Black Ant restaurant in astrology
Astrology & Restaurants: Gemini plus Leo as the resonating astrological constellation of ants. Ants for dinner at Black Ant restaurant in East Village, New York
From my pinterest blog page: Bars, restaurants & pubs in astrology
The astrology of bars, restaurants and pubs with short interpretations of their astrogeographical positions.
Related articles: Astrology & Lifestyle: the Top 20 Restaurants in the world,  Bars, restaurants & pubs in astrogeography.  Top 10 most luxurious Hotels in Astrogeography, Bars, restaurants & pubs in astrogeography, Astrology and Astrogeography for Holidays, Travelling, Booking a Hotel..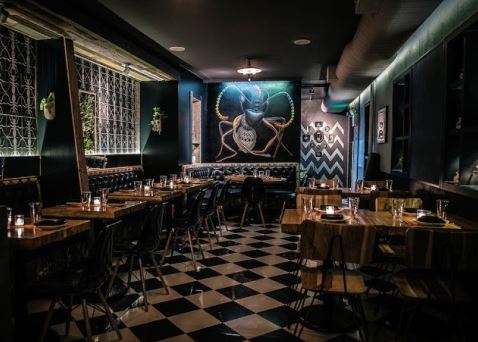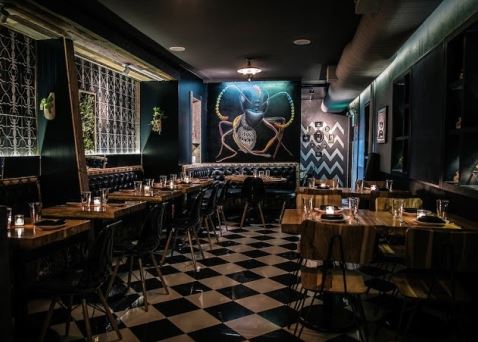 Astrogeographical position of the Black Ant Restaurant in East Village, New York for morphognetic field level 4 which describes the atmosphere and energetical topics of the restaurant itself:  located in practical, functional, neutral air sign Gemini sign of technology, communication, intelligence, pathways, roads and an important astrological indicator for robots, mechanization and an emotionless, purely functionalistic interpretation of life. The black and white design of the floor is a highly symptomatic element of the pressure in Gemini to present duplicity and functional neutrality in dealing with opposites 
The 2nd coordinate lies in highly centralistic, magnetic royal fire sign Leo sign of centralist governments & rule, kings & queens, power stations and an indicator for the extremely centered organisational structure of ant states.
https://www.youtube.com/watch?v=N2ySDOqOvRk
Zwillinge plus Löwe als astrologische Konstellation der Ameisen
Das "Black Ant" Restaurant im New Yorker East Village bietet mexikanische Spezialitäten darunter schwarze Ameisen. Das
Astrogeographische position für die morphogenetische Resonanzebene 4 die die Atmosphäre und energetischen Themen des Restaurants selbst beschreibt: eine Koordinate liegt im neutralen, funktionalen Luftzeichen Zwillinge dem Zeichen der praktischen Intelligenz, Wege, Informationen, der sachlichen, emotionslosen Anwendung von Technik und ein wichtiger astrologischer Resonator für Roboter. Die schwarz-weiße Fußbodenbefliesung ist als Merkmal des Polaritätsdrucks im Zeichen Zwillinge hier sehr schön sichtbar.
Die zweite Koordinate liegt im zentralistische, magnetischen Feuerzeichen Löwe dem Zeichen der Königinnen, Zentralregierungen, des Absolutismus, Kraftwerke, Bienen und hier auch der hierarchischen Unterordnung unter die Bedürfnisse des Zentralstaats.