A mountain temple in Capricorn with Aries. Astrology & sacred sites: the fortress temple of Tuyin Taung Pagoda in Myanmar.
Compare: Aries for phallic structures – Capricorn for stability: The "Toadstool Hoodoos", Bighorn Medicine Wheel in Capricorn and Aries,
A mountain temple in Capricorn with Aries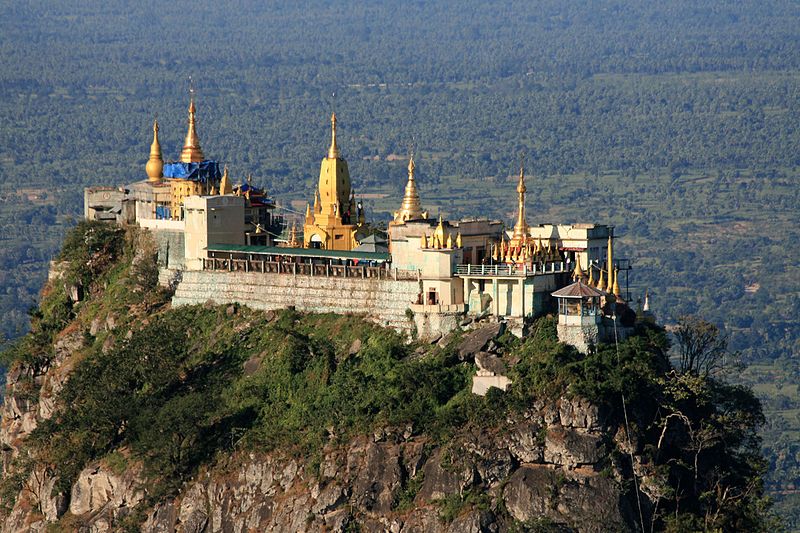 Tuyin Taung Pagoda was built in 1059 by King Anawrahta on a 737 m tall volvanic rock near Mount Popa volcano at Bagan, Myanmar.
Astrogeographic position for morphogenetic field level 4 which describes the atmosphere of the monastery itself: the site is located in highly alert, dynamic male fire sign Aries sign of action, speed, warfare, strongholds, soldiers with highly defensive, solid earth sign Capricorn sign of mountains, rocks, control, barriers, impediments, rules & regulations. government institutions, history, traditions, state religion and a tendency for monotheism.  Capricorn is the indicator for the fortress character of the monastery at the site of a former rock fortress.
The combination of Aries with Capricorn is typical for soldiers and military institutions. In the case of temples it stands for the topic of government control over religion, sites of worship dedicated to prayer and sacrifice in relation with wars and soldiers and the purpose of establishing official state religion to support the control of a government or dynasty over the country.