Astrology & Colours: The Green Sands of Papakolea Beach. On the topic of colours in astrogeographical field study.
Compare: White Sands National Monument in Capricorn, Capricorn and the White Desert, Pink Lake Hillier located in Cancer, Pink Lake Retba in Cancer, Red Sand Beach Hana, Maui in Cancer, Sagittarius as the sign of the rainbow, Glass Beach, Fort Bragg, Rainbow Beach, Queensland in Sagittarius, Orange coloured sand in Libra at Ramla Bay, Gozo, Orange coloured sand in Libra at Bat's Head, Dorset.
Astrology & Colours: The Green Sands of Papakolea Beach
You may have seen white, red, brown or grey sand and possibly even black sand on a volcanic island, But have you ever seen a green-sand beach? Papakolea Beach in Hawaii gets its distinctive colour from a mineral called olivine and is one of only two green-sand beaches in the world. The example of a green sand beach raises the question about the correspondence of the astrological signs with their own particular resonating colours. See the above list which provides a few examples from this investigations from my astrogeographical field study. Green colour relates to air sign Gemini in the first place.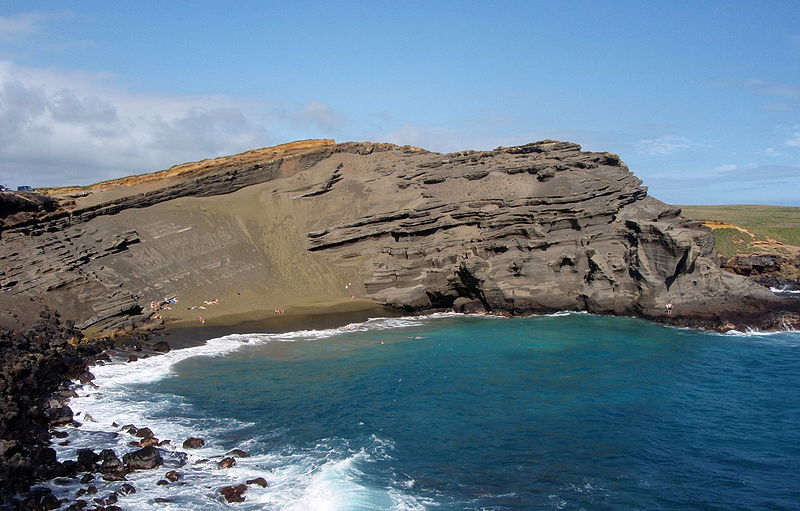 "Green sand is composed primarily of olivine crystals which erode out of basalt (lava) flows. The crystals are heavier than most sand types on the beach and remain behind when lighter sand grains are washed away by strong wave activity" (source: USGS).
The olivine sand are not created on the beach itself but washed out from basalt lava in the area. For astrogeographical considerations this means that the beach is the stage where the olivine crystals become visible (field level 4). The larger surrounding area from where the olivine derives describes its origin (field level 3)
Astrogeographic position for field level 4 which describes the atmosphere and energetical topics of the small bay only: the site is located in earth sign Capricorn sign of mountains, rocks, minerals, calcium and an indicator for white colour with air sign Libra sign of harmony, balance, beauty and decoration. Libra does not stand for a particular colour but rather for the harmony of the different colours and mixed colours of all types.
The astrogeographical position for fl4 does not explain the green colour – which leads me to the assumption that the olivine mineral stones are a phenomenon of the larger area around the beach as the minerals have simply been washed down to the beach by water.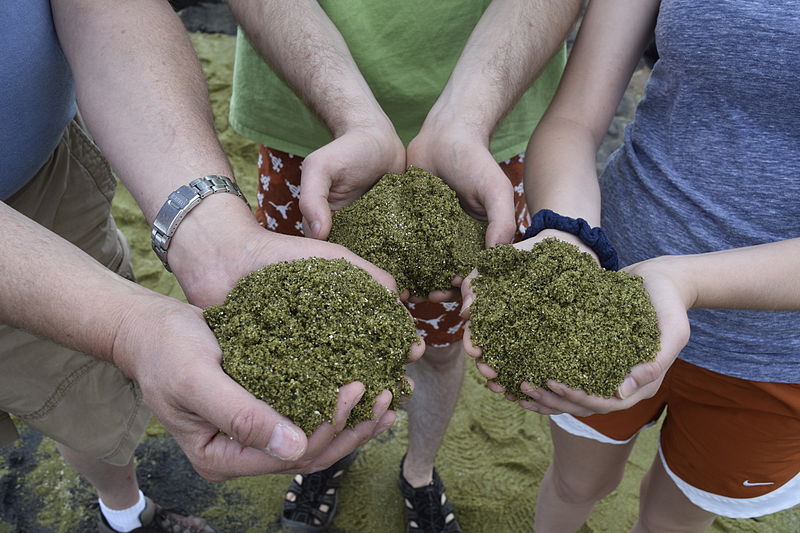 Astrogeographic position for field level 3 which describes how the area around the beach is embedded in the landscape on the south coast of Main Island: one coordinate lies right in the center (Libra subdivision) of air sign Gemini sign of assimilation, breathing, the breathing organs and a the first and most impo´rtant indicator for green colour. 2nd coordinate falls in creative, innovative, extravagant air sign Aquarius sign of rare characters, self-finding, individualization, exemptions, abstraction and mutation.