Astrology and Tourism: Travelandleisure`s Top 30 Hotels in 2014 in astrogeography
Compare: Travelandleisure`s Top 30 Hotels in 2014 in astrogeography, Lonelyplanet`s low budget best value stays in astrogeography, Top 10 most luxurious Hotels in Astrogeography, Astrology & Lifestyle: the Top 20 Restaurants in the world, Hotels and Travels – the astrogeographic positions of hotels, resorts and beautiful places to stay, Bars, restaurants & pubs in astrogeography,  Astrology and Astrogeography for Holidays, Travelling, Booking a Hotel.
The astrogeographic positions of the Top 10 or Top 100 hotels and destinations lists of the large travel magazines explain the preferences of their editorial department and the target groups of their publications. And they provide intense documentations about the astrological and abstract topics of the different categories of hotels and tourism in general. This is a journey in itself – and I´m inviting you to enjoy a deeper look into the astrology of the tourism industries and of course the many interesting touristic places on our planet.
There are many different kinds of categories for hotels. The astrogeographic position of the places where they are located can help us understand how the individual atmosphere fits the particular category and concept of a hotel.  The following list shows the astrogeographic positions of the Top 30 from travelandleisure.com`s Top 100 quality hotels in the world in 2014 as calculated by my astrogeographical world map on karmap.com.
The calculations on this list are made for radius/field levels 3 or 4 considering how large the resorts are.  Field level 3  describes how a resort is embedded in the surrounding area or town where it lies. Field level 4 describes the exact position and atmosphere of single houses and can either be used for small hotels or in case of large resorts for the exact position of a bungalow on a larger estate.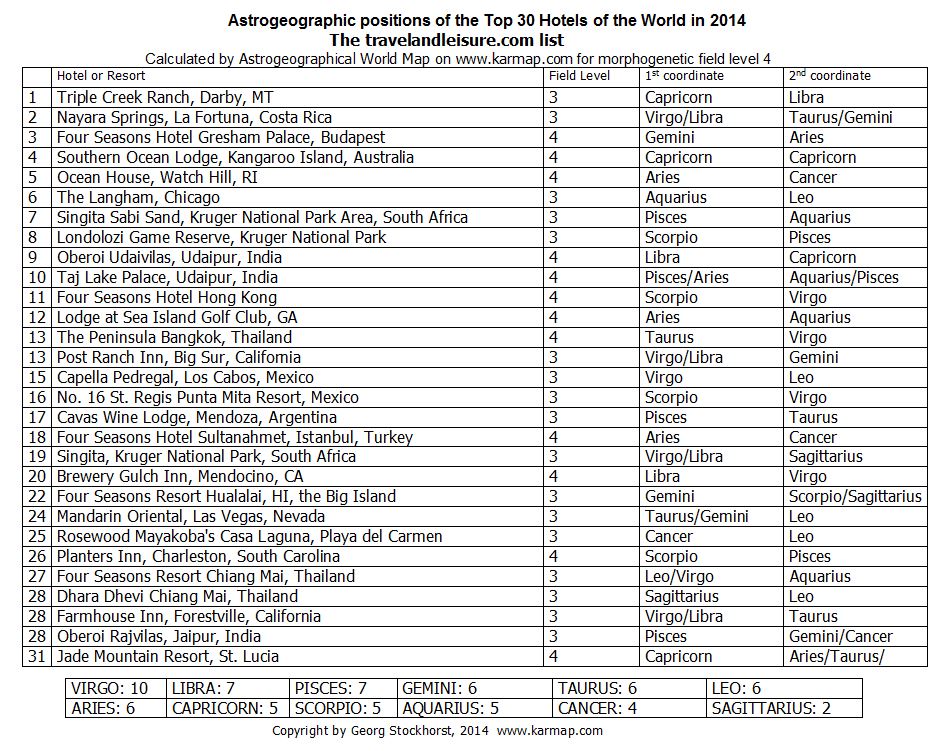 The travelandleisure top 100 quality hotels list is headed not by any of the typical signs that indicate pleasure, enjoying, having fun or the fascination of things. Instead it is Virgo (10 entries) the sign of safety first, price/performance ratio, health, recreation and feeling or at least attempting to be protected or undisturbed which is most frequently chosen for an indication of the highest standard of quality.
The 2 signs which share the second place with 7 entries each defenitely do reveal more about the pleasures sought through travelling. Highly imaginative & romantic, relaxed, spiritual water sign Pisces sign of the dream world, letting go, drinking, bathing and simply being is jsust the opposite sign of Virgo. It indicates flexibility and being ready to take the things as they are.  As such it is an aspect which could help make it easier to adapt to a change of conditions such as climate or typical habits from everyday life and overcome jetlags.
The other 2nd placed sign is service orientated, aristocratic air sign Libra the sign of courtly culture, openness, decoration, harmony, friendliness and beauty. Libra definetely is a quality which could called a basic element of luxury. And Libra has another aspect of highest value: as the sign of relationship and openness it supports all kinds of relationships,  love, travelling with a partner, honeymoons,  wedding and also finding new partners and meeting new friends.
The midfielders in the travelandleisure list of top quality hotels are
communicative, playful Gemini, grounding, comfortable Taurus the sign of food, highly energetic, magnetic, luxurious Leo and sporting Aries the sign of action.
Exclusive Capricorn may be too strict, creative Aquarius too free and mental perception orientated Scorpio too defensive as they play a minor role among the top quality hotels.
Homely, authentic Cancer may be too individualistic for the demands of highest quality hotels at least for the travelandleisure editors. And really surprising is that open-minded Sagittarius the actual sign of travelling and a very frequent indicator for lower budget hotels plays absolutely no role for the highest quality hotels here. And this even though Sagittarius as the sign of style, design, fashion and ornamentation is a highly important indicator for luxury.

No 1 in the Top 100 List: Triple Creek Ranch, Darby, Montana in the combination of service orientated air sign Libra sign of honeymoons with exclusive earth sign Capricorn sign of control.