The biggest Lobster statue worldwide is located in Taurus the sign of food. Astrology, sculptures and places: initially built for the opening of a new restaurant in the lobster city of Kingston, South Australia the biggest lobster statue worldwide is emblematic of a region.
Related articles: Bars, restaurants & pubs in astrology 327 examples,  Astrology & Lifestyle: the Top 20 Restaurants in the world, Scorpio as the sign of sculpting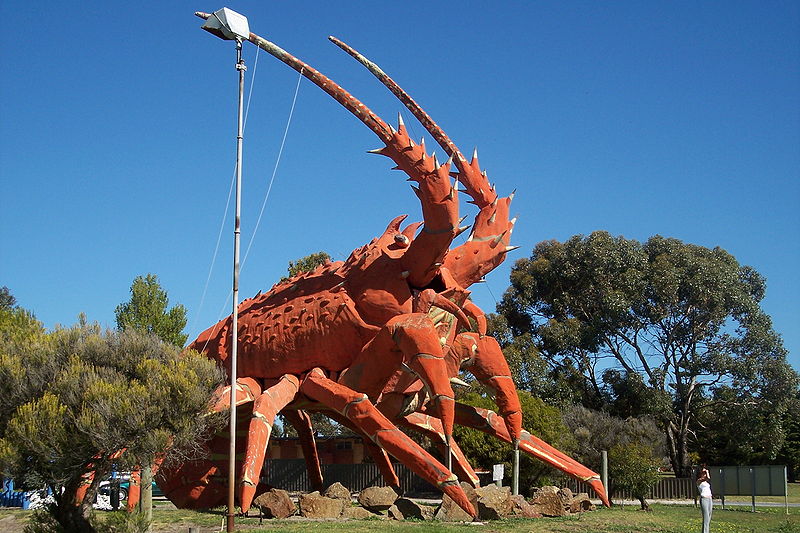 The "Big Lobster" also called Larry the Lobster is a 4 tons, 18 m tall steel + fibreglass sculpture in the lobster town of Kingston, South Australia is the biggest lobster sculpture worldwide. It was ínitially erected in front of a lobster restaurant and visitor center to attract attention to its opening on 15 December 1979.
Astrogeographic position for morphogenetic field level 4 which describes the atmosphere and energetical topics of the site of the statue and restaurant:  the statue has both coordinates in the highly profitable earth sign Taurus the sign of food, eating, market places, local products, sensual pleasures, grounding, gravitation, profitability and making money.
Cancer is the natural astrological resonator for crabs and lobsters. The fact that the statue is not in the sign of the presented creature is a clear hint that the presentation of the lobster serves the purpose indicated by the astrogeographical position. Taurus despite its role as the sign of eating and selling food especially points at the presentation of an emblematic topic of the locality and region.