Murugan – A god of War in Aries the sign of Warfare
Murugan – A god of War in Aries the sign of Warfare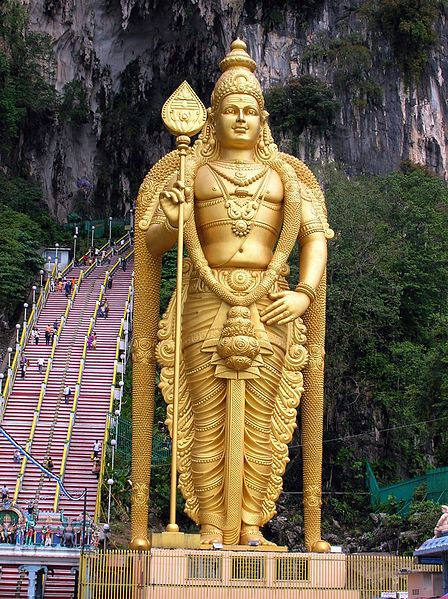 Astrology and Places: Murugan – A god of War in Aries the sign of Warfare
The 42 m tall Statue of the Hindu God Murugan was erected in the year 2006 in front of the famous Batu Caves near the Malaysian capital Kuala Lumpur.
Sri Murugan is a tamil form of Kartikeya the son of Shiva and Parvati and famous as a south indian god of victory and of warfare.  
Astrogeographic position for morphogenetic field level 4 (exact position) which describes the atmosphere and energetical topics of the statue itself but not to the rest of the Batu Caves and temples: : both coordinates of the sculpture are located in the dynamic, male fire sign Aries the sign of warfare, action, speed, mobilization, fighting  indicating that the place was chosen for a temple of this god in order to stimulate will power, decisiveness, the capacity for action, self defense and all kinds of new beginnings. 
India & Hindu temples in my astrogeography blog:    The source of the river Ganges in Cancer-Scorpio, Sri Amarnath Shiva Lingam in Aries with Cancer, Shiva in two water signs, North Sentinel Island the most isolated tribal population on the planet, Gemini and Aries – A Statue of Hanuman, The Rock Fortress of Sigiriya, Sri Gomateshvara – A Bath of Milk and Honey, Astrology & Sacred Sites: The Golden Temple, Krishna`s Birthplace, The Temple of Buddha`s Illumination, Taurus and Scorpio – The Taj Mahal in Agra, Temples of the Sun and the Planets in India, Aquarius the sign of India`s only Radha Rani Temple, Kandariya Mahadeva Temple in Khajuraho, The Mystical Buddhist Monastery of Nalanda in Astrogeography, The Navagraha Temples for the planets in Hindu Astrology and other places related to Nadi Astrology, A Kali Temple in Libra the Sign of the Angels, Meenakshi Aman Temple in astrogeography, The Rock Fortress of Sigiriya, Jokhang Temple in the Tibetan capital Lhasa, Gemini & Virgo Samye Gompa the oldest monastery in Tibet, The White Horse Temple – The first Buddhist Temple in China, The 2015 Ratchaprasong bombing in astrogeography, Murugan – A god of War in Aries the sign of Warfare