Scorpio and Pisces between mystification and occultism. Astrology and art: the astrogeographical position of the Valley of Saints sculpture park at Carnoët, France.
Related articles: Scorpio as the sign of sculpting, Scorpio and Pisces – Guggenheim Museum in Bilbao, Pisces and Scorpio – Rudolf Steiner`s Goetheanum, Opera Houses and Pisces as the sign of Music
La Vallée des Saints, the Valley of Saints at Carnoët, Bretagne is a sculpture park established in 2009 as a "Breton Easter Island" to honour the "Breton collective unconscious". The idea is to create and collect granite depictions of 1000 breton saints.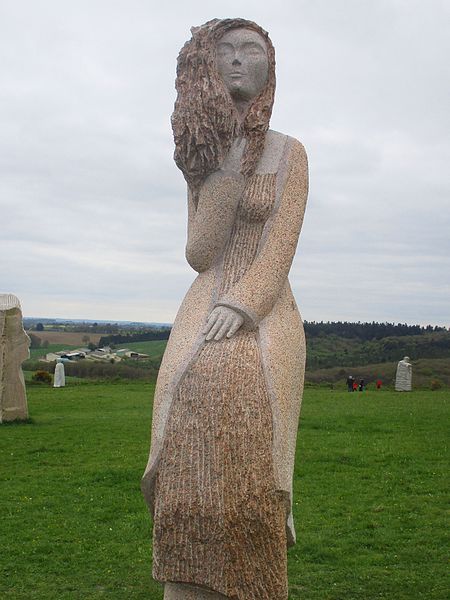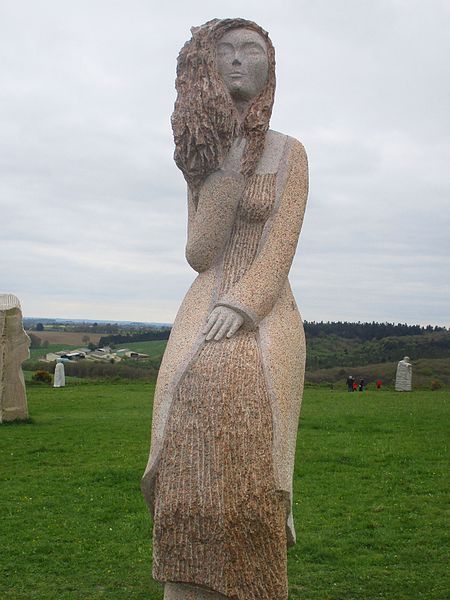 Astrogeographic position for morphogenetic field level 3 which describes how the sanctuary is embedded in the landscape and town: the site lies right on the cardinal divide between mystic spiritual water sign Pisces sign of the ocean, mystification, imagination, legends, fairy tales, entertainments, music, the unconscious, invisible, unknown, temples, spirituality, the dream world, reconnection with the spiritual plane and most important astrogeographical factor for temple sites and dynamic, male fire sign Aries sign of action, warfare, speed, soldiers and the aspect of sculptures as depictions of single personalities.
Because of its relaxing effects Pisces is a n ideal site for museums, concert halls, pubs, theaters or any other places of art, letting go and visualize impressions. And Pisces is a highly supportive factor for stimulating imagination, receptivity and for allowing the presence of illusions and mystification as well as the  absurd, artificial, occultist and uncommon.
The 2nd. coordinate of the site is located in solid, fixed water sign Scorpio the first and most important sign of sculpting, imaging, visualization, copying, photography. stone masonry, art work, ideology, dogma, fixed ideas, trauma, occultism, the underworld and underground.