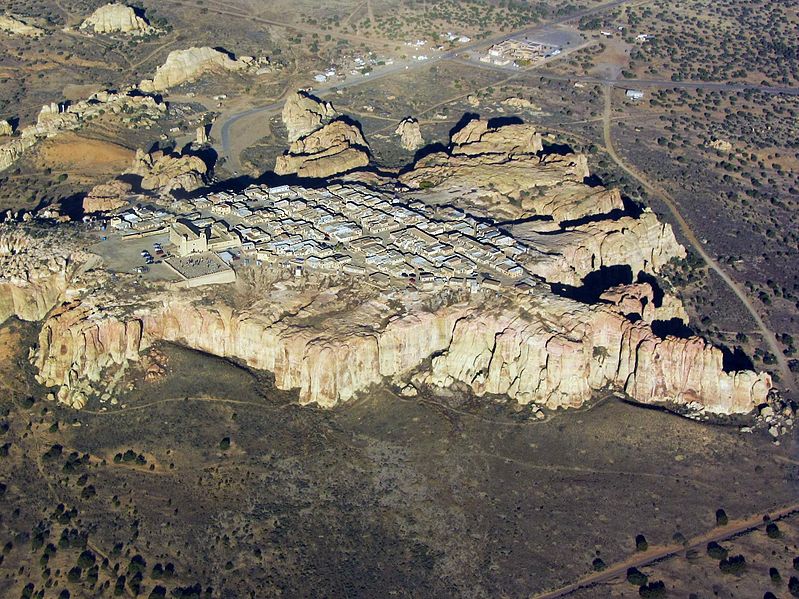 Acoma Pueblo, New Mexico is the oldest continuously inhabited site in the U.S. Built between 1000-1200 AD on a natural rock fortress Acoma Pueblo is a perfect example for the priority of the choice of an easy to defend place for the site for an early settlement. Sites on natural rock fortresses are highly symptomatic for castles and settlements in Scorpio. Another really extreme example for such a fortress built on a rock is Sigiriya in Sri Lanka which has both coordinates in Scorpio. 
Astrogeographic position for morphogenetic radius/field level 3 which describes how the site is embedded in the area: The mountain formation on which Acoma Pueblo is built is located in highly alert, solid, defensive water sign Scorpio sign of strongholds, fortresses, hardest rock, steel enforced concrete, construction work. sculpting and indicator for the dominant way that Acoma Publo overlooks the surrounding area.
The 2nd coordinate stretches from mystic, spiritual water sign Pisces the sign of hiding, retreats, dreaming, temples, illusions and highly energetic, alert, male fire sign Aries sign of warfare, action, speed, fighting, motivation for defense and together with Scorpio the most important astrological indicator for strongholds.