Astrology and Art: The Magical William Ricketts Sanctuary in Astrogeography

Compare: Gemini and Sagittarius – The Stonehenge Monolithic Circle
William Ricketts (1898–1993) was an Australian potter and sculptor of the arts and crafts movement. From 1935 until his death in 1993 he lived and worked on Mount Dandenong, Victoria where he created what is now the William Ricketts Sanctuary sculpture park. Ricketts made frequent trips into Central Australia to live with Pitjantjatjara and Arrernte Aboriginal people, whose traditions and culture inspired his sculpture. He was not an Aboriginal by blood but considered himself adopted by the Pitjantjatjara nation. He left behind many of his central Australian works at Pitchi Ritchi near Alice Springs.
Sculptures of Aboriginal people of Australia at William Ricketts Sanctuary sculpture park on sacred Mt. Dandenong near Melbourne.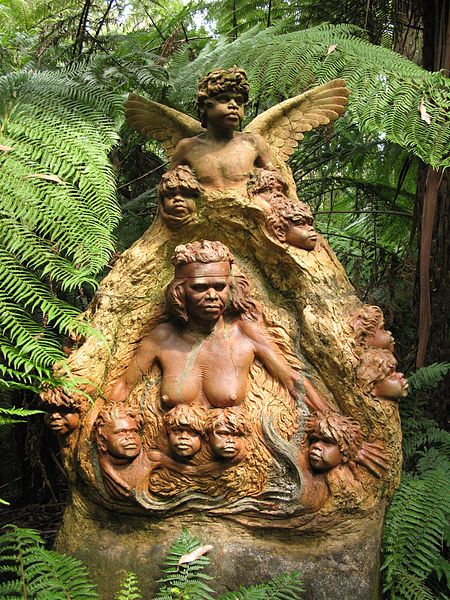 Astrogeographic position: the whole of the sculpture park is located in highly dynamic fire sign Sagittarius sign of druid culture, initiation, playgrounds, style, design, fashion, sketching, caricature, comics, composition,  decoration and ornamentation.
Sagittarius is also the most important sign of australian culture both modern and possibly also traditional aboriginal.
2nd coordinate is in practical air sign Gemini sign of signposts, communication, schools, learning, pathways, bridges and bringing opposites together. Gemini as a Mercury sign is the indicator for the realms of the spiritual beings of plants and nature here.
The combination of Sagittarius with Gemini is also an interesting constellation in regard to comics.
Field level 3 which describes the whole sanctuary area.