Astrology and Astrogeography for Holidays, Travelling, Booking a Hotel – Find auspiscious regions, cities, holiday resorts with the astrological worldmap online service
ASTROGEOTRAVEL – Astrogeographical Travel Service
Check out our new app!!! Use our new online service and app for my Astrological World Map:
AstrogeoTravel is the unique and world`s first Astrological World Map Travel Service run by karmap.com. Find the best and most auspiscious place for your holidays and personal needs. AstrogeoTravel relates places to your birth chart and provides detailed information about what you can expect at a place.
What can you expect from AstrogeoTravel?
AstrogeoTravel is there to provide information about your personal relationship with places – about which aspects are energetically supported by a place and which ones are not. We provide recommendations about how to deal with the energetic stimulation from places. Remember that places are there to support your life and development. Whatever they have in store for you is there for you to make the best out of it. AstrogeoTravel and all other astrogeographical services by karmap.com and astrogeography.com are meant to help you find a good or better way of dealing with places.
Enter birth data (date, place and time of birth) for the person who wants to travel, enter the adress of a hotel or name of a region, state or town, select the radius level and select interpretation type: Travel & Holiday.
This is how you find the best places for your holiday!
A short introduction for a comfortable and easy navigation through the world of travelling written by Georg Stockhorst inventor, developer and editor of the Astrogeographical Worldmap
AstrogeoTravel helps you to find the best places for your holidays. Take your time and check the places you are interested in in karmap.com`s new service designed for traveling. Find out which of your personal individual potentials are supported by a place and how to make the best out of your stay. AstrogeoTravel offers calculation of places for different radius (size) levels:
Radius Level 1 : Region or part of a country Radius level 2 : County or town Radius level 3 : surrounding area, resort, camping site Radius level 4 : Exact adress, hotel, microcosm
AstrogeoTravel offers you an interpretation text telling you what you can expect at places and providing recommendations about how to make the best out of your stay at the place.
The astrogeographial barometer gives an overview about which kind of holiday is supported at the place: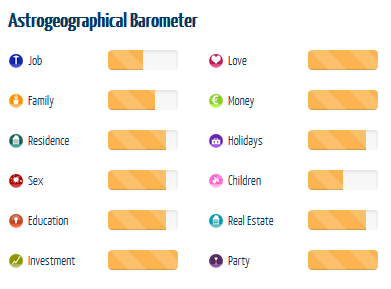 relaxing– wellness – adventures – sports – love – party – sex – family – kids – learning
If the astrogeographical barometer tells you the a place is is particularly good for love and relationships you can expect support and stimulation for romantic moments, love affairs and spending time with your partner and for single that you can expect support from the place for finding new friends and lovers and going out or doing things together. If you are searching for a place to relax choose a place with maximum points for relaxing.
Step 1
Radius level 1: How to find an auspiscious region ?
Tip: The region where you travel often is the most important aspect for the atmosphere of your journey and stay. The region where you travel relates you to the specific culture and region where you travel. The region is particularly important if you want to study the land and are planning sightseeing tours, go hiking or find the special sites of nature in the region where you travel or if you are simply interested in the local culture, way of living and climate of the region. The unique features of a region can stimulate deeper processes in thinking, emotions and soul and provide inspiration for your life back home.
First enter the name of a city in the region or the name of the region istself! Then select radius level 1 under interpretation (radius) level and travel and holiday under interpretation type.
Example 1: if for ecample you plan to travel to to the Dominican Republic enter Punta Cana for the east, Puerto Plata for the north or Santo Domingo in case you want to travel to the south of the island.
Example 2: if you´d rather fly to Mallorca, Kuba or Maui calculate Alcúdia for the north-east of Mallorca, Sandino for the west coast of Kuba or Kahului for the center of Maui.
Take some time to consider the results for the different places and then proceed with step 2 in order to find a town in the selected region.
Step 2
Find the most auspiscious town in the part of the world where you want to travel. Select radius level 2 to calculate towns or villages.
Example 1 : if you have decided to travel to Puerto Plata im Dominican Republic check the towns that you might find interesting. For example Villas Ana Maria, Sosúa or Luperon. This time selecting radius level 2.
Example 2: If you have decided to travel to the spanish mediterraean island of Mallorca calculate Puerto Andratx on the west coast, Puerto Alcudia in the north east orCala d`Òr on the region of the south coast of the island.
Step 3:
Now find the hotel which you like most. Use radius level 3 for a larger resort or a camping place or radius level 4 for a small Hotel or Bed & Breakfast place.
When searching for the best hotel interpretation radius level 3 gives you an idea about your personal relation to the surroundings of your room or appartment. In case of a large hotel resort or camping place it is recommended that you use interpretation radius level 3 to be sure that the exact position of your room or camping site is calculated correctly.
The most exact way to calculate your individual relation to an exact location is through interpretation radius level 4. But this makes sense only if you know the exact adress ang geocoordinates of the place where you are staying like in the case of a small hotel or bed & breakfast place.
The choice of your hotel is really important. If the place where you stay makes you feel good that can have positive effects in many ways. And if you are able to sleep well and start the day in a positive way that can have good effects on your holiday and also on the time after returning back home. There may also be types of vacations for which the hotel where you stay is not so important. If you are going on excursions and short trips all the time you may spent very little time in your hotel. On other occasions for example when visiting a wellness resort or for staying longer periods of time the hotel really matters a lot.
Use AstrogeoTravel to find a way to make the best out of your stay.
In those cases when you may not be fully satisfied with a hotel but cannot change the place easily. AstrogeoTravel`s premium analyses are also there to recommend how to make the best out of your stay at a place.
Important: to be able to apply AstrogeoTravel for field level 4 what you need is the exact adress of the hotel. Here are some clues how to find the exact positions of hotels.
If you have a whole list with hotel offers that you want to check in AstrogeoTravel you could either find the hotel by entering its name in the Nokia Maps search engine, or if you have the adress by entering the adress.
If you do not have any recommended hotel yet use one of our cooperation partners or any other online hotel search platforms to find hotels in the town or area of your choice.
Compare: Travelandleisure`s Top 30 Hotels in 2014 in astrogeography, Lonelyplanet`s low budget best value stays in astrogeography, Top 10 most luxurious Hotels in Astrogeography, Astrology & Lifestyle: the Top 20 Restaurants in the world, Hotels and Travels – the astrogeographic positions of hotels, resorts and beautiful places to stay, Bars, restaurants & pubs in astrogeography, Astrology and Astrogeography for Holidays, Travelling, Booking a Hotel.