Astrology & Art: The Headington Shark
Astrology & Art: The Headington Shark in astrogeography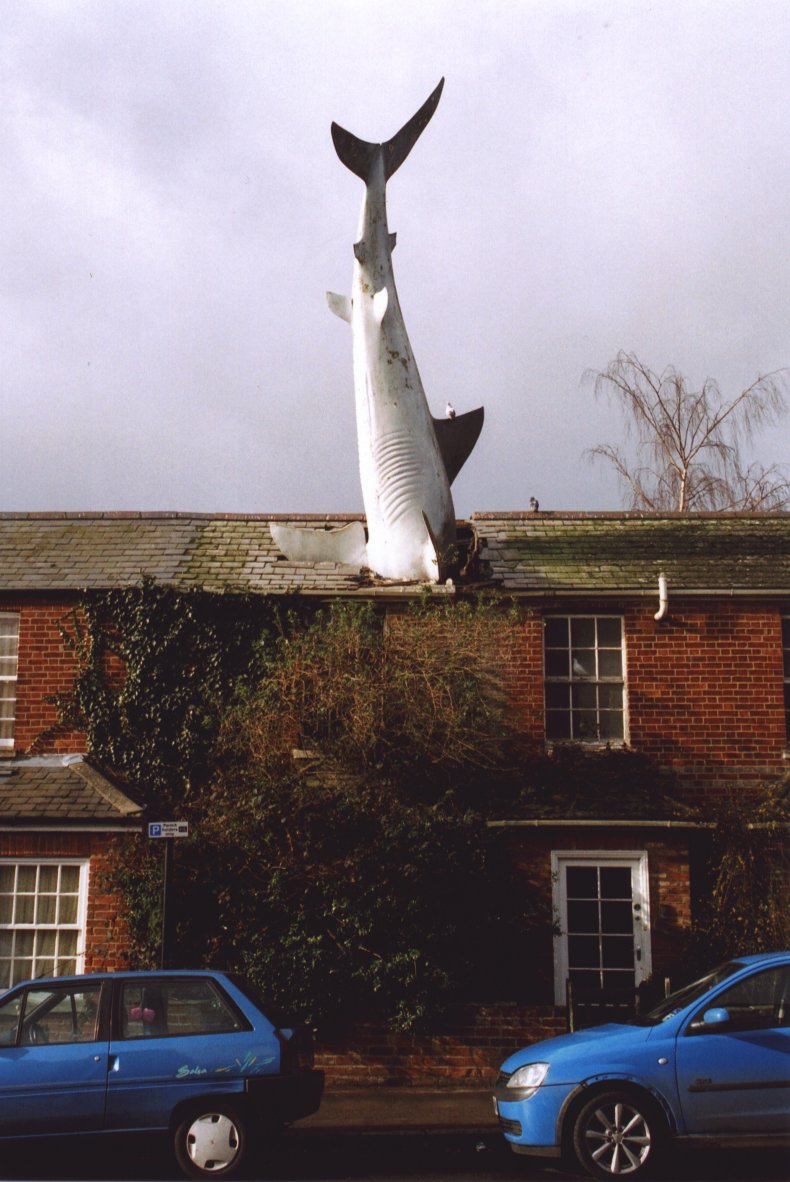 The Headington Shark is a sculpture installed on 9 Aug 1968 with Sun in Leo at the rooftop of 2 New High Street, Headington, Oxford. The shark appears to be heading into the ground but got stuck on the rooftop. The image thus created includes wordplays with the name of New High Street and with the town name of Headington.
The shark weighs 200 kg and is 7.6 m long, It is is made of painted fibreglass and is originally named "Untitled 1986" (as written on the gate of the house). The sculpture was erected on the 41st anniversary of the dropping of the atomic bomb on Nagasaki. It was designed by sculptor John Buckley and constructed by Anton Castiau a local carpenter.
Astrogeographic position for morphogenetic field level 4 which describes the atmosphere and topic of the house and sculpture itself: one coordinate of the house is located in earth sign Taurus sign of the earth, grounding, growing roots, local topics & people, town centers, market places, food.
The 2nd coordinate lies in highly magnetic, attractive royal fire sign Leo the sign of the sun, light, emotional self-centeredness and self expression,
Both signs, Taurus the sign of the gravitation of earth and Leo the sign of the gravitation of the Sun are the two most important centripetal factors among the 12 structural elements in the tropical zodiac.
For the reading of the signs here the heading to the ground of the sculpture includes a wordplay with the town name (Headington) as well as with the name of the adress (New High Street). This resonance is a symptomatic trace of Taurus in two ways: for the topic of grounding + for identifying the town name itself.
This dimension of meaning of the installation links the dropping of the Nagasaki bomb with the situation of the local people in their houses, beds and living rooms creating a whole range of possible asscociations about how a bomb could fall on their house, how they are part of the responsibilty for the nuclear attack while they are stuck with their heads in their private worlds a.s.o..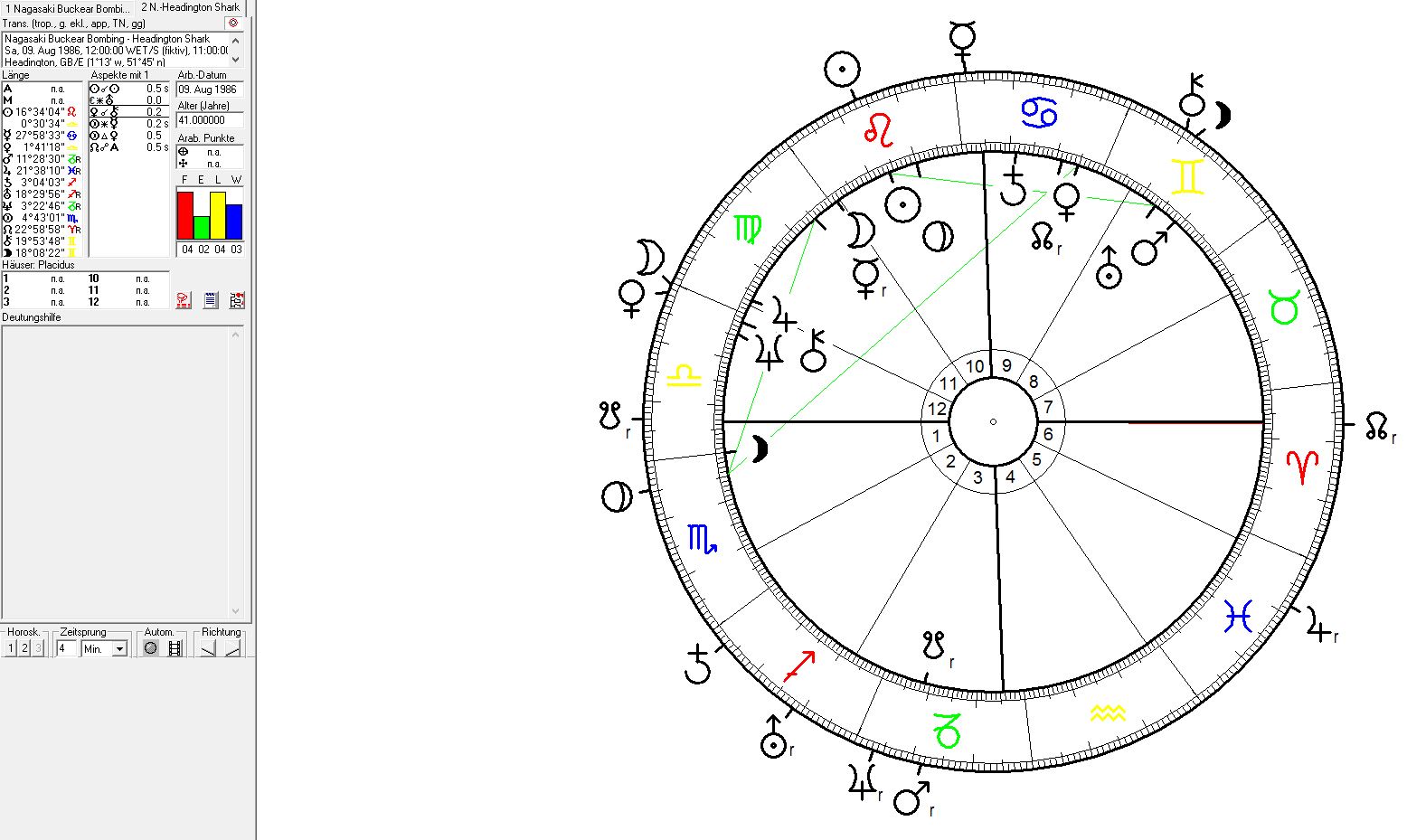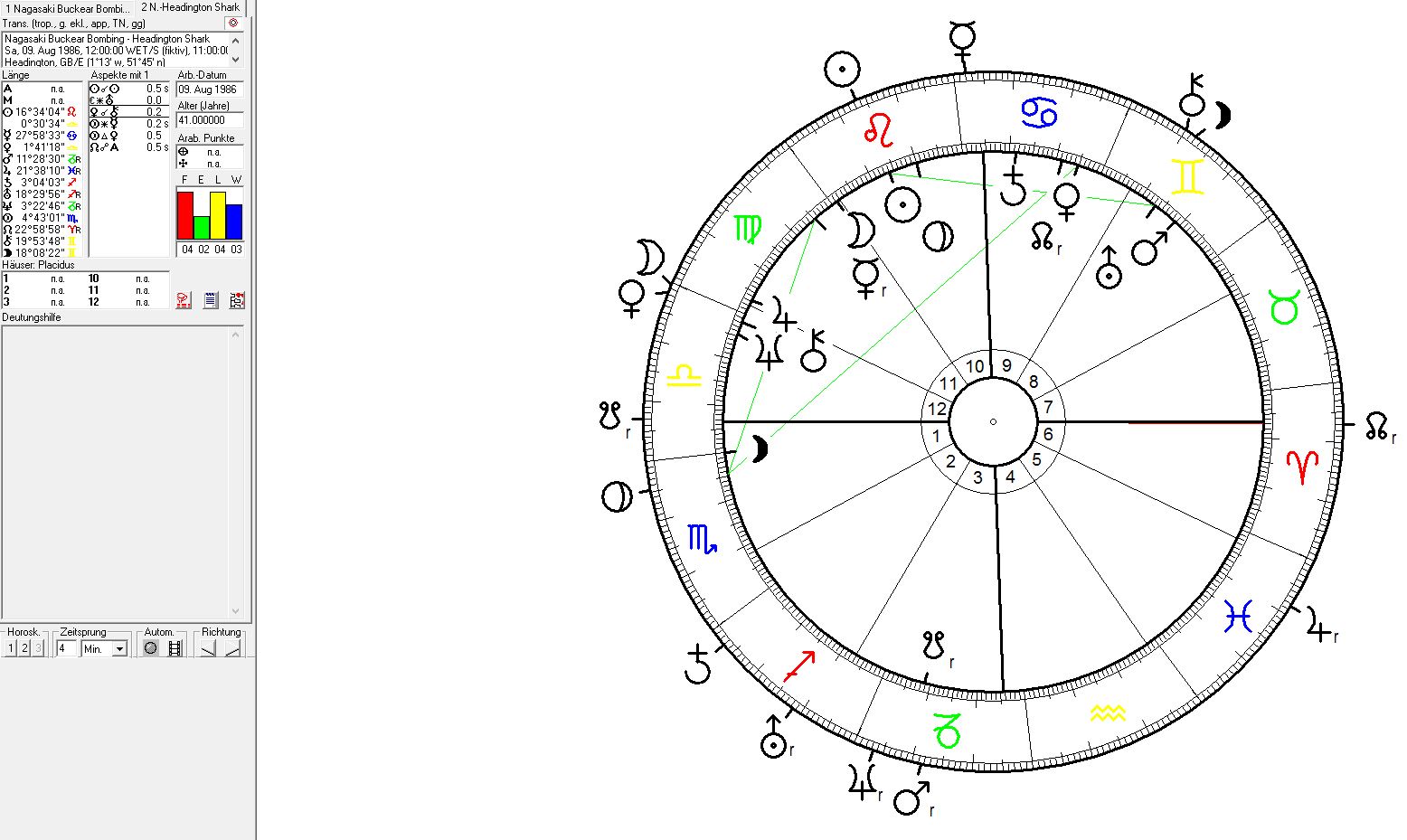 On the day of the installation of the Headington Shark the South Node Ketu indicator for past karma that is wanted to be dealt with and solved was transiting 23°Libra exactly conjunct the ascendant during the splosion of the nuclear bomb over Nagasaki. That is an absolutely stunning, wonderful and really strong transit for that day. And almost looks like an astrologer had chosen the date and year.